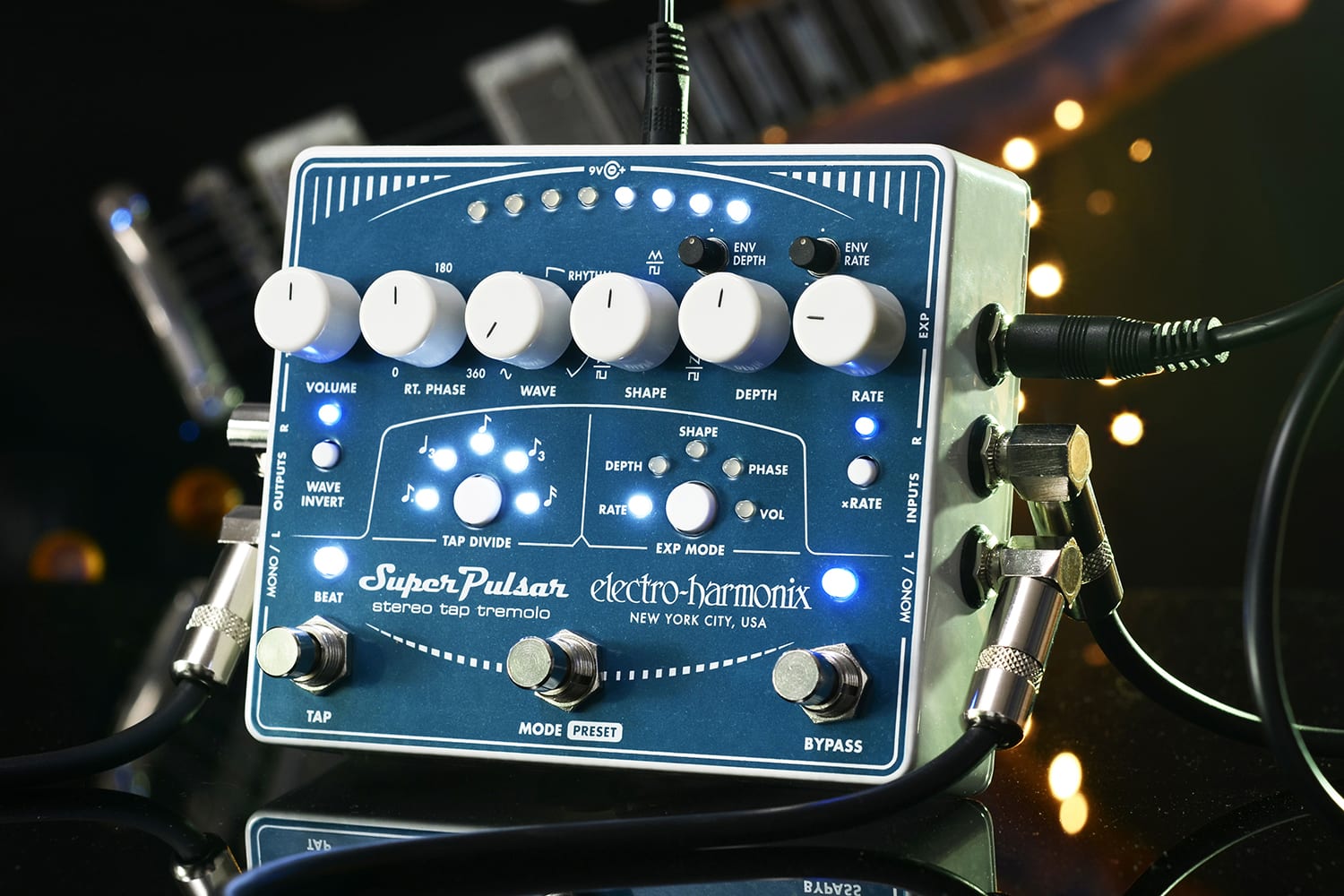 Super Pulsar
Stereo Tap Tremolo
A truly super tremolo with powerful controls and signal routing!
$269.80
Sculpt the tremolo's shape with adjustable sine, triangle and pulse waveforms while tap tempo and tap divide ensure synchronicity. Create your own rhythmic patterns and store them. Save and recall up to eight customized preset programs. Conjure moving tremolos on-the-fly with EXP control over Rate, Depth, Shape, Phase or Volume. Deluxe I/O lets you choose stereo in/out, mono in/stereo out, stereo in/mono out or mono in/mono out operation.
Analog Tremolo with Stereo in/out, mono in/stereo out, stereo in/mono out and mono in/mono out
Adjustable modulation waveforms include sine wave, triangle and pulse waves, plus 9 rhythmic patterns that may be changed by the user and saved
Modulation rate set by RATE knob, TAP TEMPO FSW, external Tap FSW or external clock
The waveform phase for the right channel may be adjusted from 0 degrees to 360 degrees in relation to the left channel
Modulation Rate and Depth can interact with your playing by adding envelope follower modulation to each parameter
Save and recall up to 8 presets
Power adapter included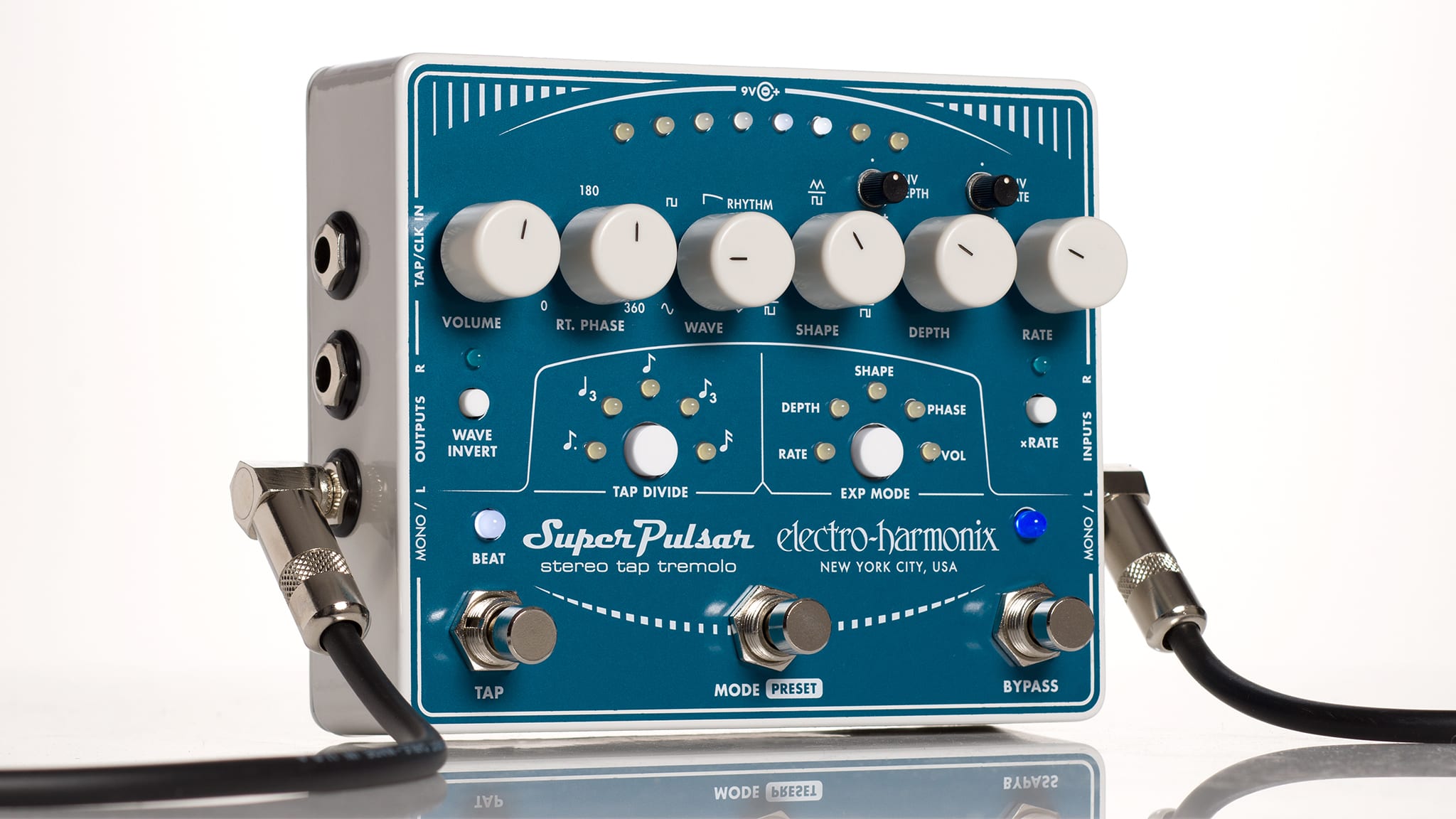 VOLUME KNOB
Sets the overall output level of the Super Pulsar.
RT. PHASE KNOB
Turns the Super Pulsar's stereo tremolo into a panning effect.
WAVE KNOB
In the counter-clockwise half of this knob's rotation it acts like a switch choosing between the modulation waveforms: Sine, Triangle or Pulse. When you turn WAVE into the clockwise half of its rotation, from 12 o'clock to maximum, the modulation waveform switches to RHYTHM while simultaneously adjusting the pulse length of each beat in the Rhythms.
SHAPE KNOB
While the WAVE knob is set to Sine, Triangle or Pulse waves, the SHAPE knob continuously varies each of these waveforms' shapes. When WAVE is set to RHYTHM, the SHAPE knob acts like a switch as you rotate it.
DEPTH KNOB
Adjusts the amount of effect.
RATE KNOB
Adjusts the speed of the tremolo or pan effect.
WAVE INVERT BUTTON AND LED
This button enables or disables the WAVE INVERT function.
TAP DIVIDE BUTTON AND LEDs
The TAP DIVIDE button allows you to divide down your TAP time to create faster modulation rates in relation to what you tapped.
EXP MODE BUTTON AND LEDs
The EXP. MODE button chooses the destination parameter for an external expression pedal or control-voltage to modulate. The lit LED indicates the selected mode.
XRATE BUTTON AND LED
This pushbutton cycles through 3 range choices for the RATE knob, one LED indicates the current selection: Slow: xRATE LED off, Medium: xRATE LED dimly lit, Fast: xRATE LED brightly lit.
TAP FOOTSWITCH & BEAT LED
Use the TAP footswitch to tap in your modulation rate.
MODE FOOTSWITCH
The MODE footswitch is a utility button that may be reassigned by the musician. It has 2 modes of operation: Normal mode and Preset mode.
BYPASS FOOTSWITCH AND STATUS LED
Toggle between effect mode and true bypass mode. When the Status LED is lit, Super Pulsar is in effect mode.
MONO / LEFT INPUT JACK
This is the main audio input.
RIGHT INPUT JACK
This is the secondary audio input.
EXP JACK
Connect an expression pedal with a TRS plug to this jack to control the following parameters with your foot: RATE, DEPTH, SHAPE, PHASE and VOLUME.
MONO / LEFT OUTPUT JACK
This is the main audio output.
RIGHT OUTPUT JACK
This is the secondary audio . When using Super Pulsar in a stereo-setup, connect your right channel to this output.
TAP/CLK IN JACK
This jack accepts up to 3 external footswitches allowing you to set the TAP time and control up to 2 other functions. Additionally, you can set the Super Pulsar to accept clock pulses on the Tip conductor of this jack, instead of switches, so that an external clock sets the Tap time. We recommend powering down Super Pulsar when connecting or disconnecting your external switches to the TAP/CLK IN jack.
"The world's not short of traditional tremolo pedals, but the EHX Super Pulsar is capable of so much more than them."
–Sound on Sound