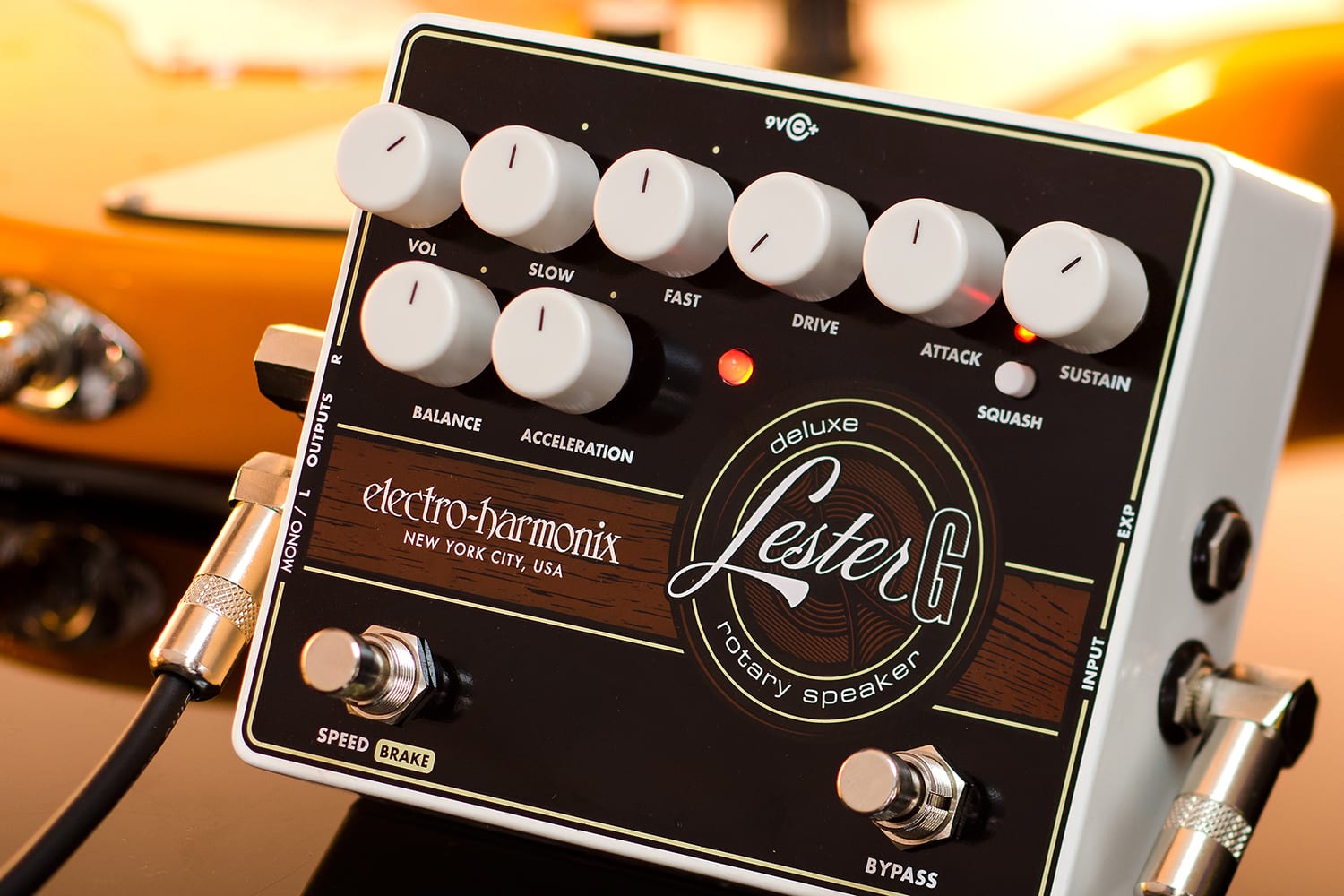 Lester G
Deluxe Rotary Speaker Emulator
The ultimate rotary speaker emulator packed with goodies like a specially designed compression circuit to supercharge the rotating speaker effect on guitar!
$272.10
The EHX Lester G uses the finest rotary speaker simulation available today, and comes with a variety of deluxe features. Stereo outputs provide a lush, realistic effect. Tube-emulated overdrive is available with the DRIVE knob, and speaker mix can be fine-tuned with the BALANCE knob. Switch between adjustable FAST and SLOW modes for an accurate reproduction of a classic rotary speaker cabinet's speed adjustment. An expression pedal jack allows for fine tuning of the rotation speed with an expression pedal.
The Lester G also features a compression circuit that adds lush sustain to electric guitar. Using the compressor, the LESTER G provides guitarists with the fat, full sustain of an organ, to get the most out of the rotating speaker effect.
Ultimate rotary speaker emulator
Fully featured compressor built-in
Mono In/Mono or Stereo Out
Tube emulated overdrive
Adjustable Fast and Slow modes
Acceleration control
High quality buffered bypass
Power adapter included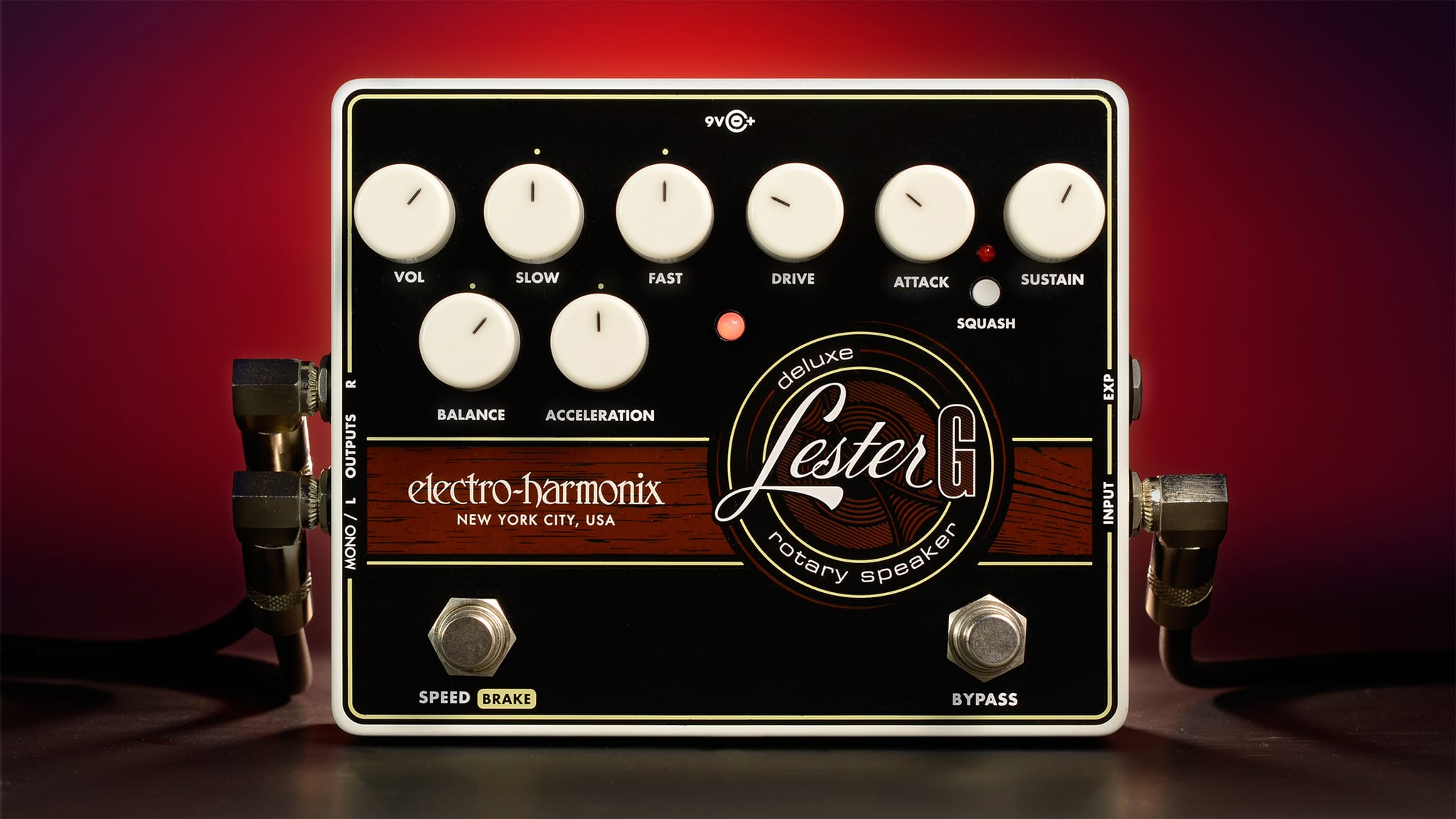 VOL KNOB
Controls the output volume.
SLOW KNOB
Varies the speed of the rotating speaker effect in SLOW mode.
FAST KNOB
Varies the speed of the rotating speaker effect in FAST mode.
DRIVE KNOB
Controls the amount of overdrive, simulating the tone of an overdriven rotary speaker cabinet's tube amplifier.
ATTACK KNOB
Controls the amount of attack when using the compressor.
SUSTAIN KNOB
Controls the compression effect. When the SUSTAIN knob is set fully counterclockwise, the compression effect is bypassed. As the SUSTAIN knob is turned up, the amount of compression increases.
BALANCE KNOB
Controls the mix between the simulator's low-frequency rotor and high-frequency horn.
ACCELERATION KNOB
Controls the rate of transition between FAST mode and SLOW mode.
SPEED/BRAKE FOOTSWITCH
Selects the speed mode of the LESTER G.
BYPASS FOOTSWITCH AND LED
Selects whether the LESTER G is in buffered bypass mode or effect mode.
INPUT JACK
This ¼" jack is the audio input.
EXP JACK
Plug an expression pedal into this jack to control the rotation speed.
MONO/L AND R OUTPUT JACKS
Connect these jacks to two separate amps or inputs on a mixing board.
SQUASH SWITCH AND LED
Selects between two modes of compression: NORMAL and SQUASH.
"Guitarists who love the unique sounds of a genuine Leslie but don't want to deal with a fragile, excessively heavy piece of vintage gear will rejoice at the Lester G's incredibly accurate tones, compact pedal format, and expanded versatility."
–Guitar World