Stereo Pulsar
Variable Shape Analog Tremolo
Vintage tremolo and panning with Wave Form and Shape control!
$103.40
The EHX Stereo Pulsar Stereo Tap Tremolo generates vintage tremolo and panning that will fill any venue with rhythmic stereo energy. Its Wave Form switch allows you to change the modulation from triangle to square form. The Wave Shape control allows you to control transitions from negative to positive saw tooth or adjust pulse width. This all means you can create any type of stereo tremolo from pure vintage to ones never heard before.
Stereo outputs
Tough and compact die-cast chassis
9V battery included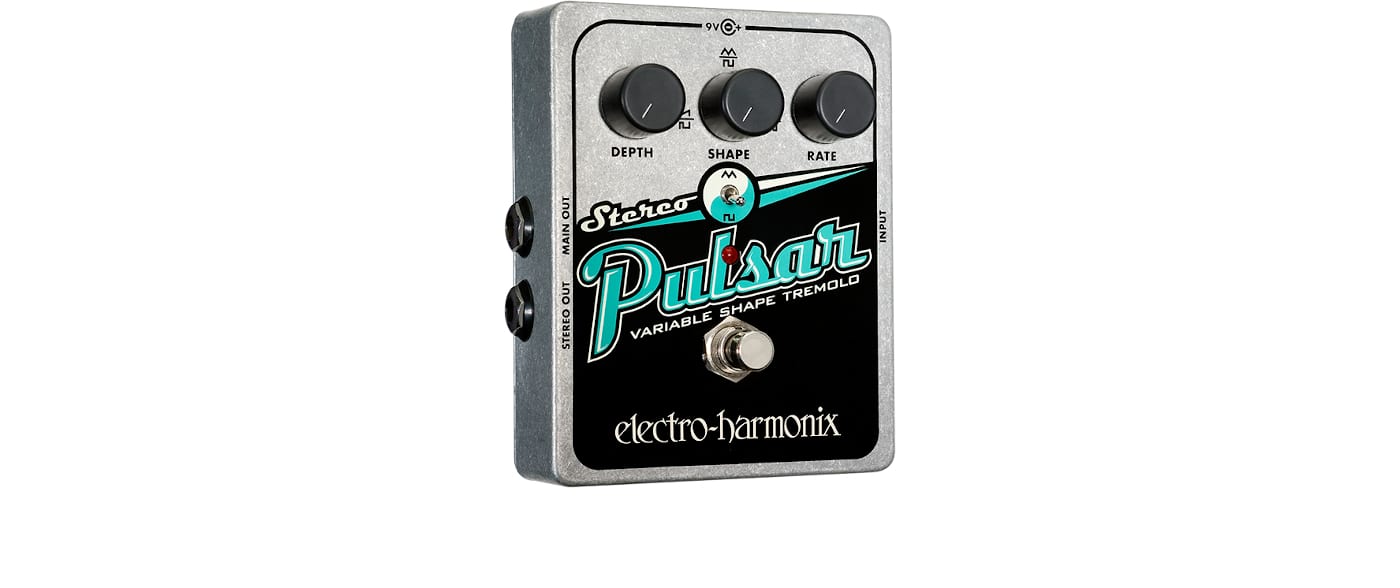 DEPTH KNOB
Adjusts the amount of Tremolo that will be applied to your signal.
SHAPE KNOB
Changes the shape of the waveform that modulates the Tremolo.
RATE KNOB
Adjusts the speed of the tremolo or pan effect.
SHAPE SWITCH
Selects between Triangle Wave and Square Wave Modes.
FOOTSWITCH AND RATE/STATUS LED
If the effect is engaged, the LED will blink at the same rate that the effect modulates. The footswitch engages/disengages the effect.
INPUT JACK
Connect your instrument's output to this 1/4" mono jack.
STEREO OUT JACK
Connect this 1/4" mono jack to your second amplifier's input.
MAIN OUT JACK
Connect this 1/4" mono jack to your amplifier's input.
"The Pulsar's wide tonal variety, solid build quality, and straightforward interface put it well ahead of the competition."
–Guitar Muse