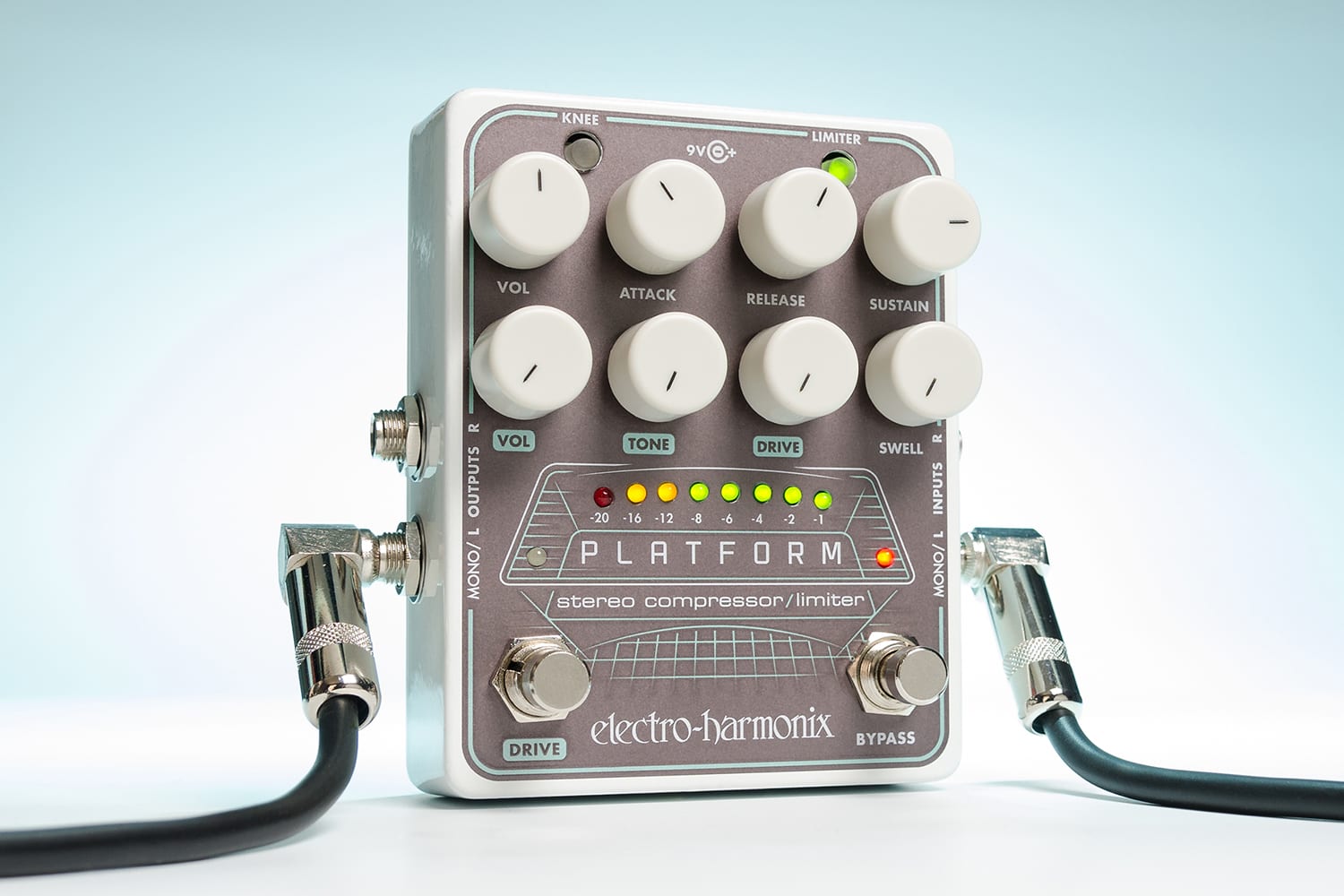 Platform
Stereo Compressor/Limiter
Sophisticated, professional stereo compressor limiter!
$194.10
Sound Clips
Limiter On, Great Sustain
Drive Section On with Compression
Using Swell for Bowed Effect
Using Swell for Pedal Steel Effect
Compressor On, Drive Setting Low
The EHX Platform Stereo Compressor/Limiter presents you with a versatile and powerful studio-quality compressor enclosed in a stompbox-sized package. Use the Platform's compressor/limiter on any instrument—such as guitar, bass or keyboards—for precise and powerful control of your signal's volume. Engage the Drive and Swell functions to further tailor and enhance your sound. Whether you're on stage, in the studio, putting together a podcast or creating your next YouTube masterpiece, the Platform will help you get the job done.
Studio-quality compressor/limiter lets the user precisely tune dynamics regardless of the instrument or situation.
The compressor/limiter includes a full complement of controls: Volume, Attack, Release and Sustain, plus pushbuttons for Hard or Soft Knee and the Limiter
Foot-switchable overdrive section adds versatility and includes dedicated controls for Volume, Tone and Drive. Together with the compressor it produces a sound that's saturated, smooth and slippery
Adjustable Swell function creates bowed, fade in and reverse effects
True stereo operation, can be used as Mono In and Out, Mono In and Stereo Out, or Stereo In and Stereo Out
Features a three color, eight LED compression meter that displays the compressor's actual gain reduction in real-time
Stereo buffered bypass that's great for keeping your signal pristine with multiple pedal setups and long cable runs
Power adapter included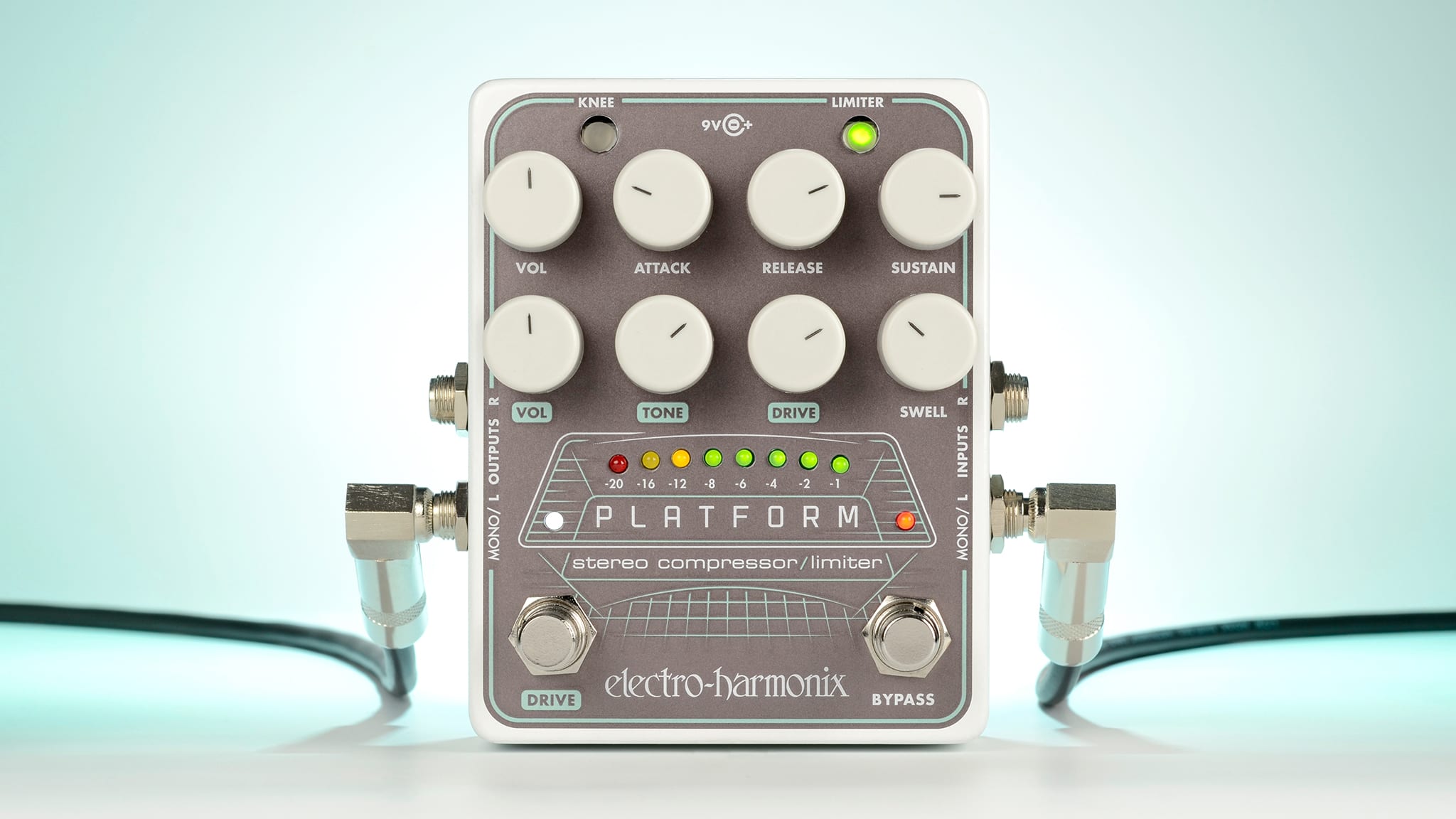 VOL KNOB [MAIN OUTPUT LEVEL]
Controls master volume. Use this control to balance your level between bypass and effect mode.
ATTACK KNOB
Sets the amount of time delay before the compressor/limiter is activated once the input signal level reaches or exceeds the threshold setting.
RELEASE KNOB
While the compressor/limiter is acting on the signal, the input may drop below the threshold setting and cause the compressor to cease working on the signal. The compressor does not stop working immediately, though. Rather, it gradually stops over a period of time that is set by the RELEASE knob.
SUSTAIN KNOB
Compressor Mode: Adjusts compression ratio. Limiter Mode: Adjusts threshold level.
VOL KNOB [DRIVE LEVEL]
Controls the output volume of the Drive section.
TONE KNOB
Adjusts the frequency response of the overdrive's hi-cut filter, allowing you to dial in the perfect overdrive tone.
DRIVE KNOB
Controls the input gain of the overdrive section.
SWELL KNOB
Adjust fade-in time.
KNEE BUTTON
Changes the compression/limiting curve to produce a compression sound that is either more or less transparent.
LIMITER BUTTON
Engages the limiter.
BYPASS FOOTSWITCH AND LED
Toggle between effect mode and bypass.
DRIVE FOOTSWITCH AND LED
Allows you to engage or bypass the overdrive section. When Drive is engaged, the white LED above the DRIVE footswitch lights up.
MONO/L INPUT JACK
Plug your instrument or output from another effects pedal into this jack.
R INPUT JACK
Plug your instrument output or another effects pedal into this jack.
MONO/L OUTPUT JACK
The Left output signal is sent through this jack.
R OUTPUT
The Right output signal is sent through this jack.
"The EHX Platform is powerful for studio or post production work, yet compact enough to take to a gig."
–Mike Matthews