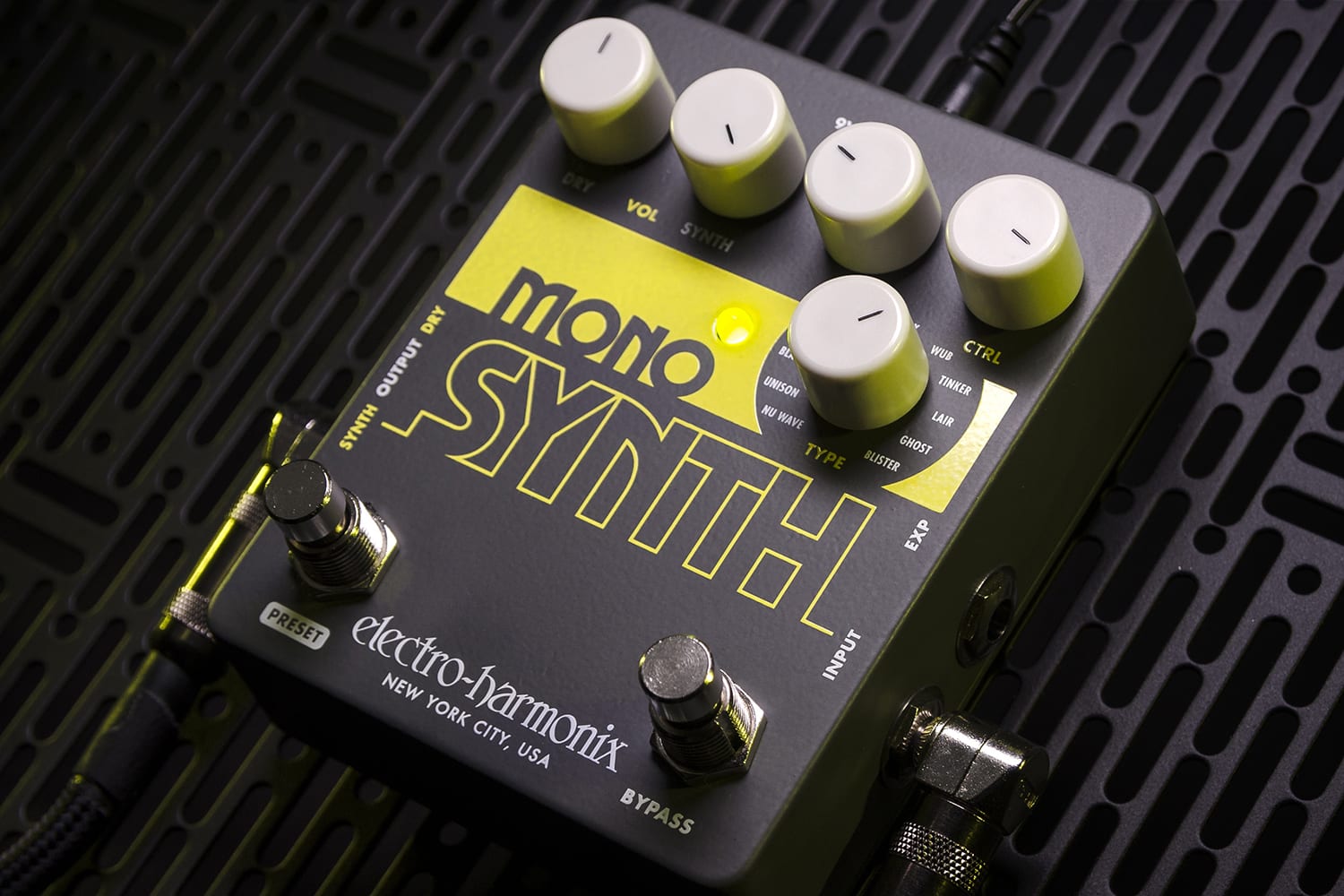 Mono Synth
Guitar Synthesizer
Transform your guitar into eleven great sounding synthesizers!
$151.50
The EHX Mono Synth transforms your guitar into eleven great sounding synthesizers… from vintage synth emulations to fat, stacked voices to soaring lead sounds and more.
The Mono Synth was designed to work on guitar without any modifications, special pickups or MIDI implementation. Its intuitive layout makes it easy to use and easy to dial in cool sounds quickly. The pedal's DRY dial adjusts the dry guitar volume at the Synth Output while SYNTH controls the volume of the synthesizer sound at the Synth Output. Used together they let you create just the right mix. The SENS control, short for sensitivity, adjusts how playing dynamics trigger the synthesizer and allows you to fine-tune the pedal's response to your guitar and playing style.
With the CTRL knob you can adjust a key parameter for each of the eleven synth types. It varies depending on the preset and provides extra tweakability for customizing your sound. There's also an EXP input which lets you control an entirely different parameter in real-time with an expression pedal!
Using the built-in Preset footswitch, a user customizable preset for each of the eleven synth sounds can be created, saved and recalled. The factory presets are also easy to restore should you wish to.
Features eleven great sounding, mono synth sounds
Easy to use controls let you dial in the sound you want quickly
EXP pedal input for real-time expressive control with your foot
Create, save and recall eleven user presets, one for each of the eleven synth sounds
Power adapter included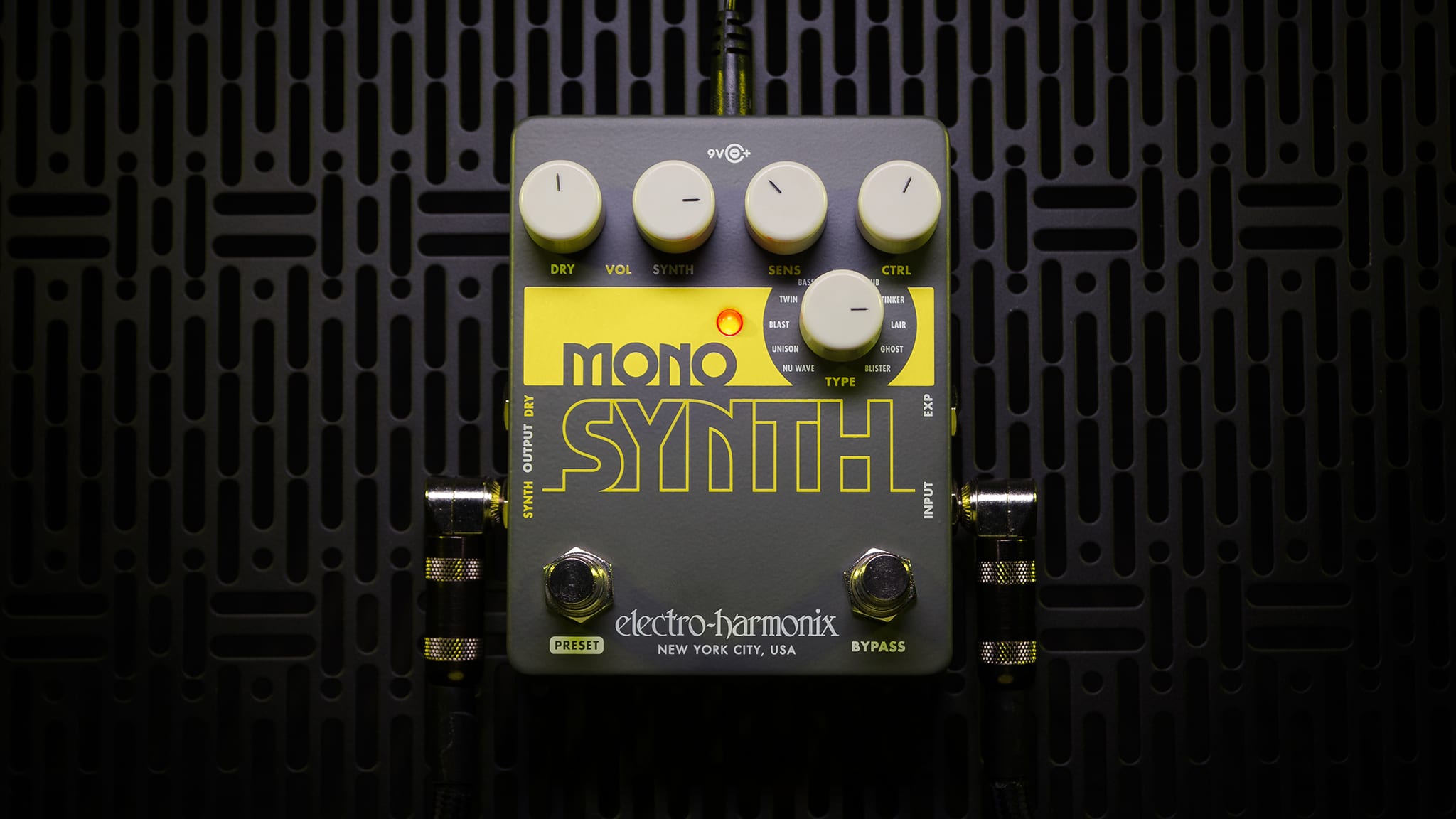 DRY VOL KNOB
Controls the volume of the untreated input signal present at the SYNTH OUTPUT jack.
SYNTH VOL KNOB
Controls the overall volume of the synthesizer sound at the SYNTH OUTPUT jack.
SENS KNOB
Adjusts the gain of the input signal before the signal hits the Mono Synth's (MS) trigger block.
CTRL KNOB
Controls a specific parameter for each synth type.
TYPE KNOB
Selects the effect type.
PRESET FOOTSWITCH
Toggles between Preset and live What You See Is What You Get (WYSIWYG) modes. The PRESET footswitch is also used to save a preset to the current synth type set by the TYPE knob.
BYPASS FOOTSWITCH AND STATUS LED
Toggles the SYNTH OUTPUT jack between buffered bypass and effect modes. The status LED lights when you are in effect mode.
INPUT JACK
Plug your instrument or the output of another effects pedal into this ¼" jack.
EXP JACK
The EXP jack accepts a TRS cable from a standard passive expression pedal or control voltage (CV) on a TS cable.
SYNTH OUTPUT JACK
Produces the mix set by the DRY and SYNTH volume controls.
DRY OUTPUT JACK
The DRY OUTPUT jack produces the signal present at the INPUT jack.
"If you have set your heart on making synth sounds with the guitar, then there is very little that anyone can say to stop you."
–Guitar Magazine