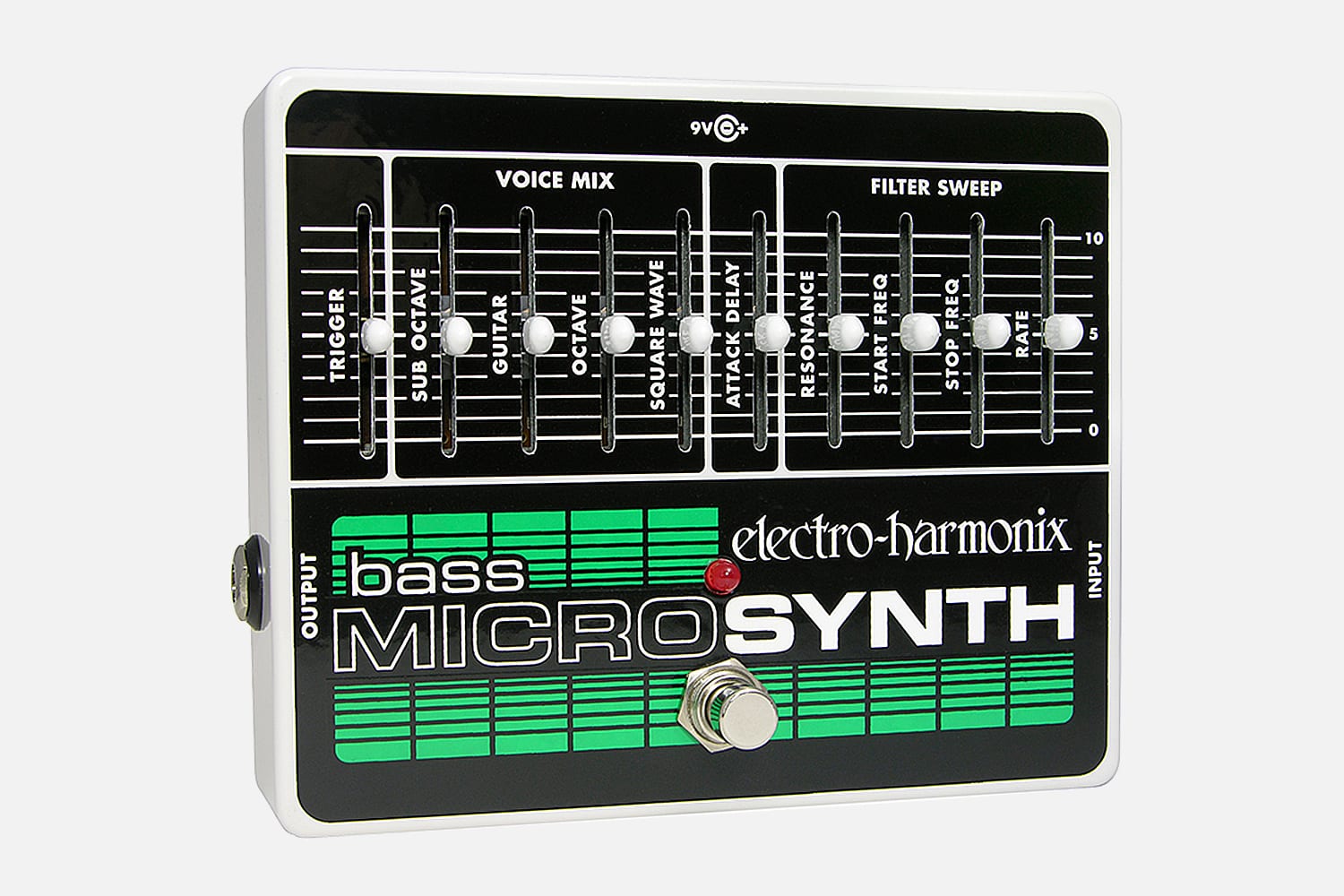 Bass Micro Synth
Analog Microsynth
Fat analog synth textures give your bass a whole new range of possibilities!
$324.80
The EHX Bass Micro Synthesizer is a pure bass guitar synthesizer with all analog circuitry. Adjustable synth parameters deliver fat, sweet tones from another world.
Its voice mix section lets you bring in 4 different voices: Sub Octave, Guitar, Octave, and Square Wave. The Square Wave gives the Bass Micro Snythesizer its signature, fuzzy growl that calls back to the cosmic '70s .
An Attack Decay control creates bowed effects or ominous volume swells while the Filter Sweep section sweeps through the full frequency spectrum for sound from quick high to low chops and slow low to high blooms.
All analog design
Optimized for bass guitar
3-pole analog resonant filter
4 Voice mixer section mixes: sub octave, original, octave up and square wave
Square wave voice can be used as a distortion tone
Start, stop filter frequency sliders with adjustable rate for full control over the filter's sweep direction and speed
Adjustable filter resonance control
Adjustable attack time control for fading-in notes
True bypass
Tough and compact die-cast chassis
Power adapter included
TRIGGER
Determines the input volume at which the filter circuits will "turn on."
SUB OCTAVE
Controls the output volume of the Sub-Octave.
GUITAR
Controls the output volume of the input signal through the filter.
OCTAVE
Controls the output volume of the Octave.
SQUARE WAVE
Controls the output volume of the Square wave.
ATTACK DELAY
Determines the time required for the voice signals to reach full volume.
RESONANCE
Sets the degree of sharpness, or "Q" of the filter.
START FREQUENCY
Determines the frequency at which the filter sweep begins.
STOP FREQUENCY
Determines the frequency at which the filter sweep ends.
RATE
Determines the speed at which the filter sweeps from Start Frequency to Stop Frequency.
INPUT JACK
Plug your instrument or the output of another effects pedal into this ¼" jack.
OUTPUT JACK
The Output jack outputs the Bass Micro Synthesizer's audio signal.
FOOTSWITCH AND STATUS LED
The Footswitch selects either effect mode or bypass. When the Status LED is lit, the Bass Micro Synthesizer is in effect mode.
"The EHX Bass Micro Synth is an incredibly powerful box that can give you an endless sound palette of old and new sounds that you've heard and loved."
–Bass Frontiers