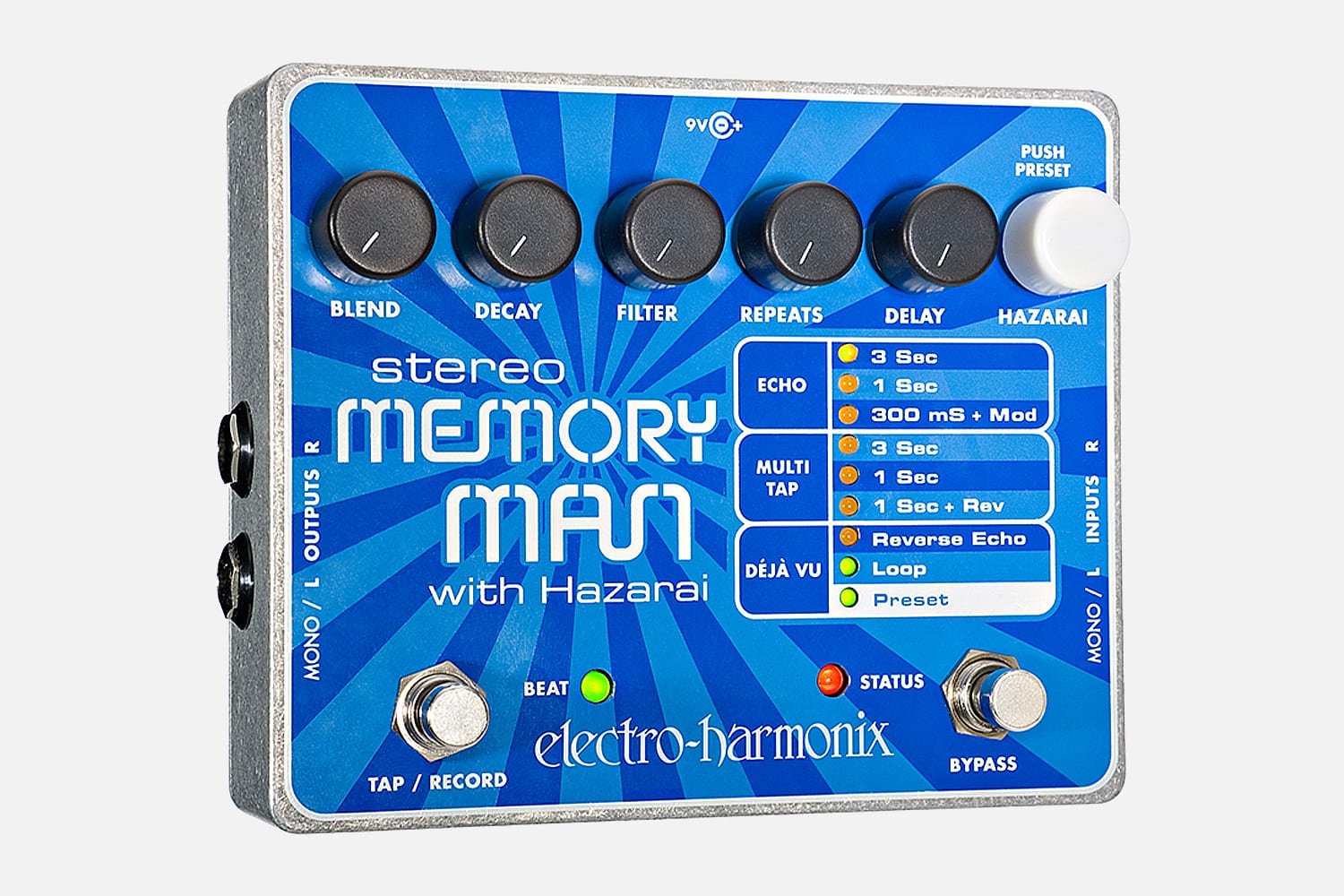 Stereo Memory Man with Hazarai
Delay & Looper
It's a multi-tap delay, it's a looper, it's an echo with reverse... it's got all the Hazarai!
$252.20
Stereo Memory Man with Hazarai
The EHX Stereo Memory Man is a real time performance tour de force. World class echoes with modulation and reverse are just a few of the choices. As a Looper, it has up to a full 30 seconds of loop time. The Stereo Memory Man with Hazarai is destined to be one of the most creative instruments you will ever own. Ethereal tone-scapes to full musical performances are only limited by your imagination. And it's all in stereo.
30 second stereo looper with continuous overdubbing, reverse, speed adjust and tempo only adjust
Up to 3 seconds of stereo echo with adjustable reverberant washes
Up to 3 seconds of stereo multi-tap delay with adjustable number of taps and taps amplitude envelope
Up to 300 mS stereo echo with modulation
Up to 3 seconds of intelligent reverse echo
Adjustable lowpass or highpass filter available in every mode
Ping pong delay when used as mono in to stereo out
True stereo outputs
Tap tempo footswitch for setting the delay time in every mode
8 user presets to save and recall
Tough and compact die-cast chassis
Power adapter included
BLEND KNOB
The BLEND knob is a wet/dry control for the effect outputs.
DECAY KNOB
The function of the DECAY knob changes depending on the mode selected.
FILTER KNOB
Controls both a Low Pass or High Pass Filter on the delayed signal.
REPEATS KNOB
Acts like a feedback control.
DELAY KNOB
Sets the Delay Time from a minimum of 0.2 mS to a maximum of 3 seconds.
HAZARAI KNOB
The HAZARAI knob is a rotary encoder enabling the user to scroll through the 8 modes.
TAP / RECORD FOOTSWITCH
The TAP/RECORD footswitch has multiple functions assigned to it depending on the currently selected mode and how long the switch is pressed for.
BYPASS FOOTSWITCH / STATUS LED
The Bypass footswitch toggles between effect mode and bypass mode.
MONO/L AND R INPUT JACKS
When using the SMMH with only one input we suggest you use the MONO/L input.
MONO/L AND R OUTPUT JACKS
Plug your input into the MONO/L jack and then connect the MONO/L and R Outputs to two separate amps or inputs on a mixing board.
"With the Hazarai we tried to throw in everything you would want from a digital delay pedal, from tapping in the delay time to having the ability to create loops on the fly."
–Mike Matthews