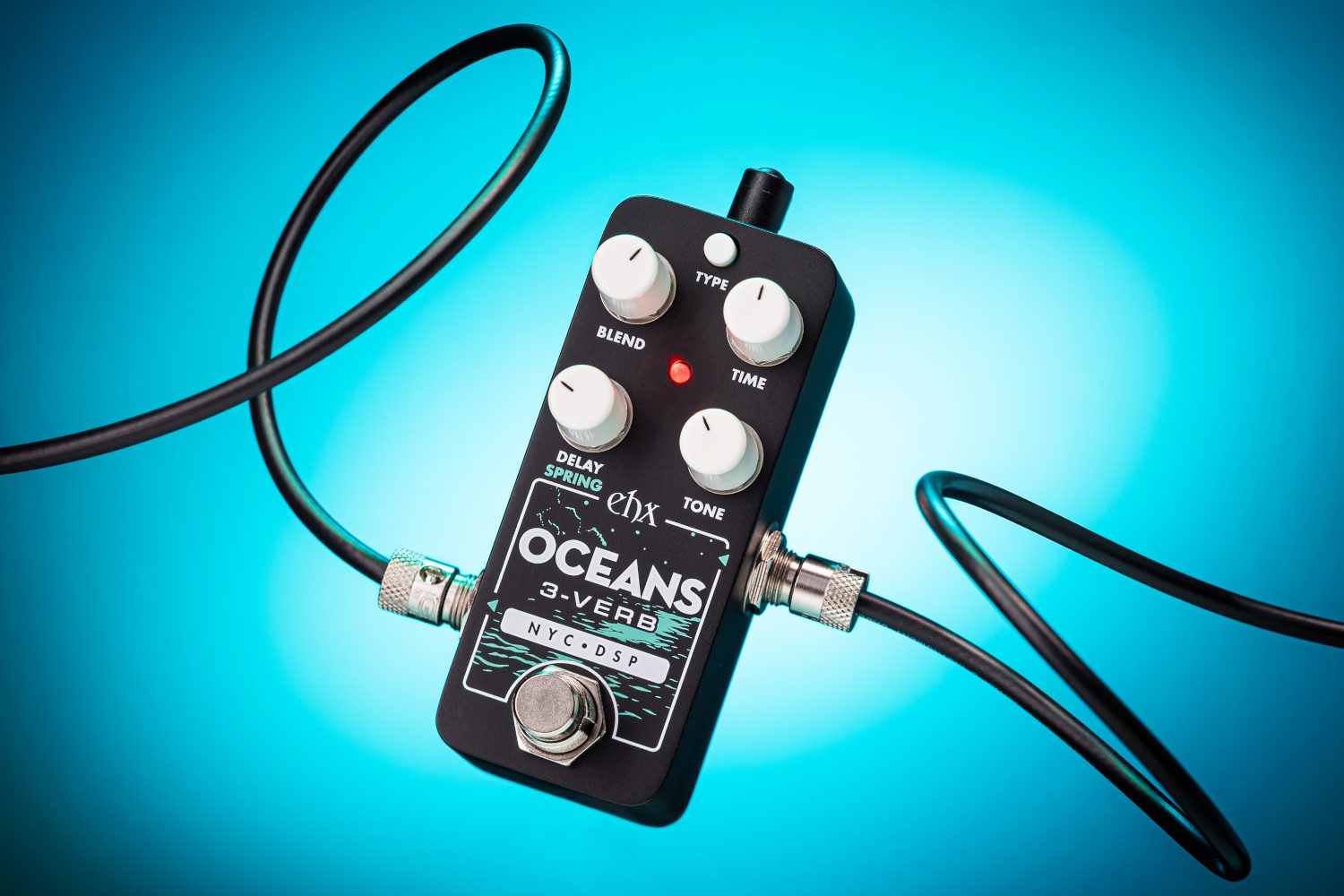 Pico Oceans 3-Verb
Multi-function Reverb
Ultra-compact ambience featuring the spacious sounds of Spring, Plate and Hall Reverb!
$154.20
Sound Clips
Plate Reverb with Pre Delay

The EHX Pico Oceans 3-Verb is an ultra-compact reverb pedal packed with the essentials of ambience with plenty of flexibility and control. This Pico-sized reverberator adds the huge sounds of Spring, Plate, and Hall reverb to any pedalboard while using minimal space. Adjustable decay time, pre-delay / spring length, and tone make the Oceans 3-verb able to create a plethora of spacious sounds.
SPRING – pays homage to the classic Fender® 6G15 tube spring reverb
PLATE – the lush, warm reverb that got its name as it was originally created by a large metal plate
HALL – the rich reverberant sound of a grand concert hall
A comprehensive control set allows for tailored sound to any setup. BLEND adjusts from 100% dry to 100% wet. TIME controls the decay time of the reverb. DELAY/SPRING sets the pre-delay time in PLATE and HALL mode or selects between 3 springs lengths in SPRING mode. The TONE control adjusts the overall brightness of the reverb from bright and airy to warm and smoky.
Additionally, TAILS bypass can be selected so the reverb continues to decay after the pedal is switched to bypass. This allows for a more natural sounding decay when turn the reverb off. Infinite Reverb can be achieved by maxing out the TIME control in both PLATE or HALL mode or by pressing and holding the footswitch. This creates a building ambient soundscape until you release the footswitch.
Compact Pico chassis
3 different reverb types: SPRING, PLATE, & HALL
Adjustable Decay, Pre-delay and Tone for flexibility
SPRING mode features 3 selectable spring lengths
Infinite Reverb function for creating ambient soundscapes
Tails Bypass function allows reverb to decay after pedal is bypassed
Power supply included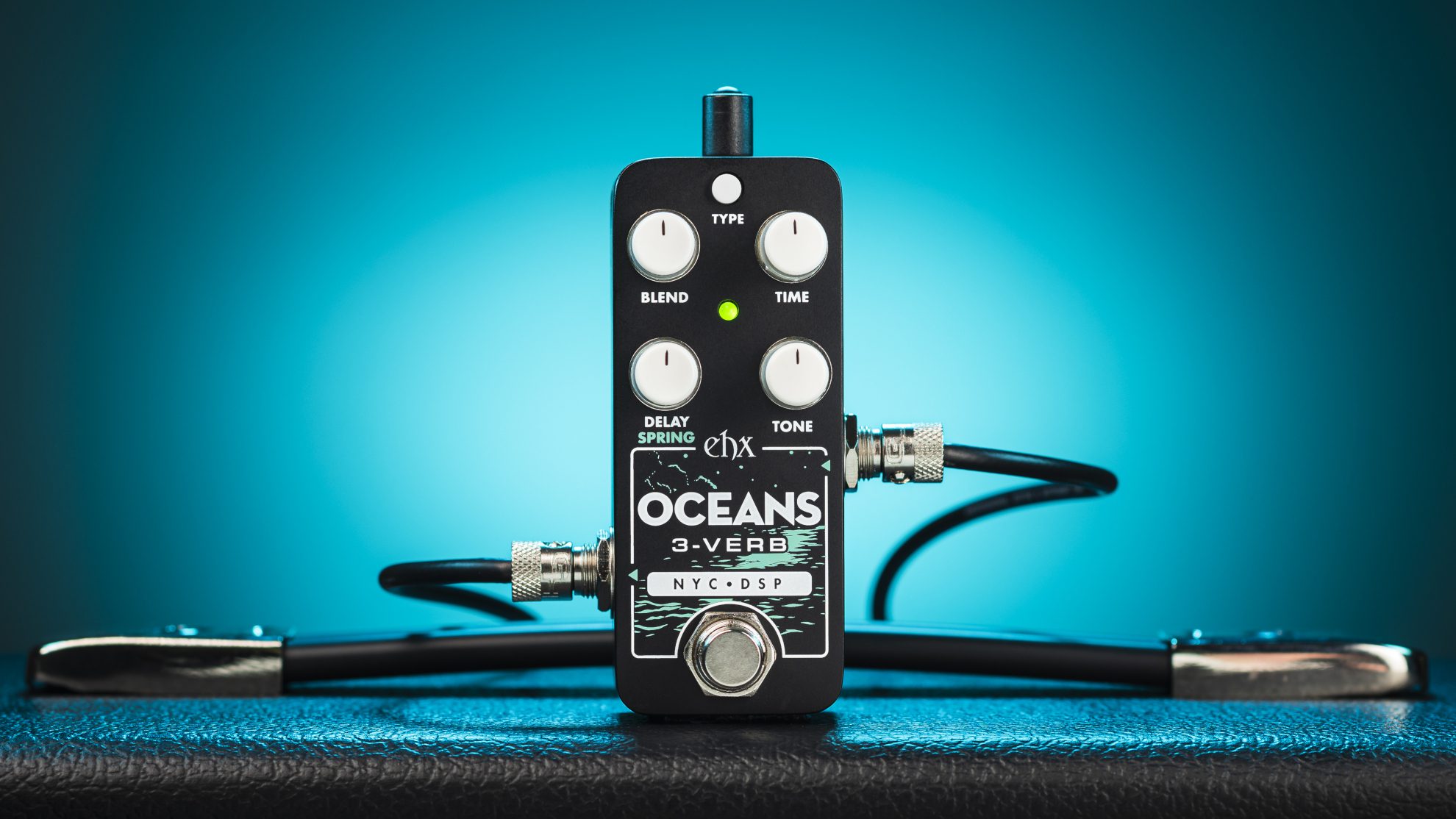 POWER JACK
Attach the output plug from the included power supply to the 9V power jack. Current draw: 100mA at 9.0VDC
TYPE BUTTON
Cycles through the three available reverbs. The color of the LED indicates the currently selected reverb: Green – SPRING, Orange – PLATE, Red – HALL
BLEND KNOB
Adjusts the output mix from 100% dry to 100% wet.
TIME KNOB
Controls the decay time of the reverb. In Plate and Hall, the TIME knob goes all the way to infinite at its maximum setting.
SPEED/LAYER KNOB
When Plate and Hall are selected, this knob sets the pre-delay time, up to 1 second. In Spring mode, this knob chooses between three spring lengths: short (left), medium (center), and long (right).
TONE KNOB
Controls the brightness of the reverb.
INPUT JACK
Audio input to the Oceans 3-Verb.
OUTPUT JACK
Audio output from the Oceans 3-Verb.
FOOTSWITCH & STATUS LED
Footswitch engages or bypasses the effect. The LED color indicates the selected reverb type. In bypass, the LED is off.
"We're expecting very big things from this release!"
–Mike Matthews