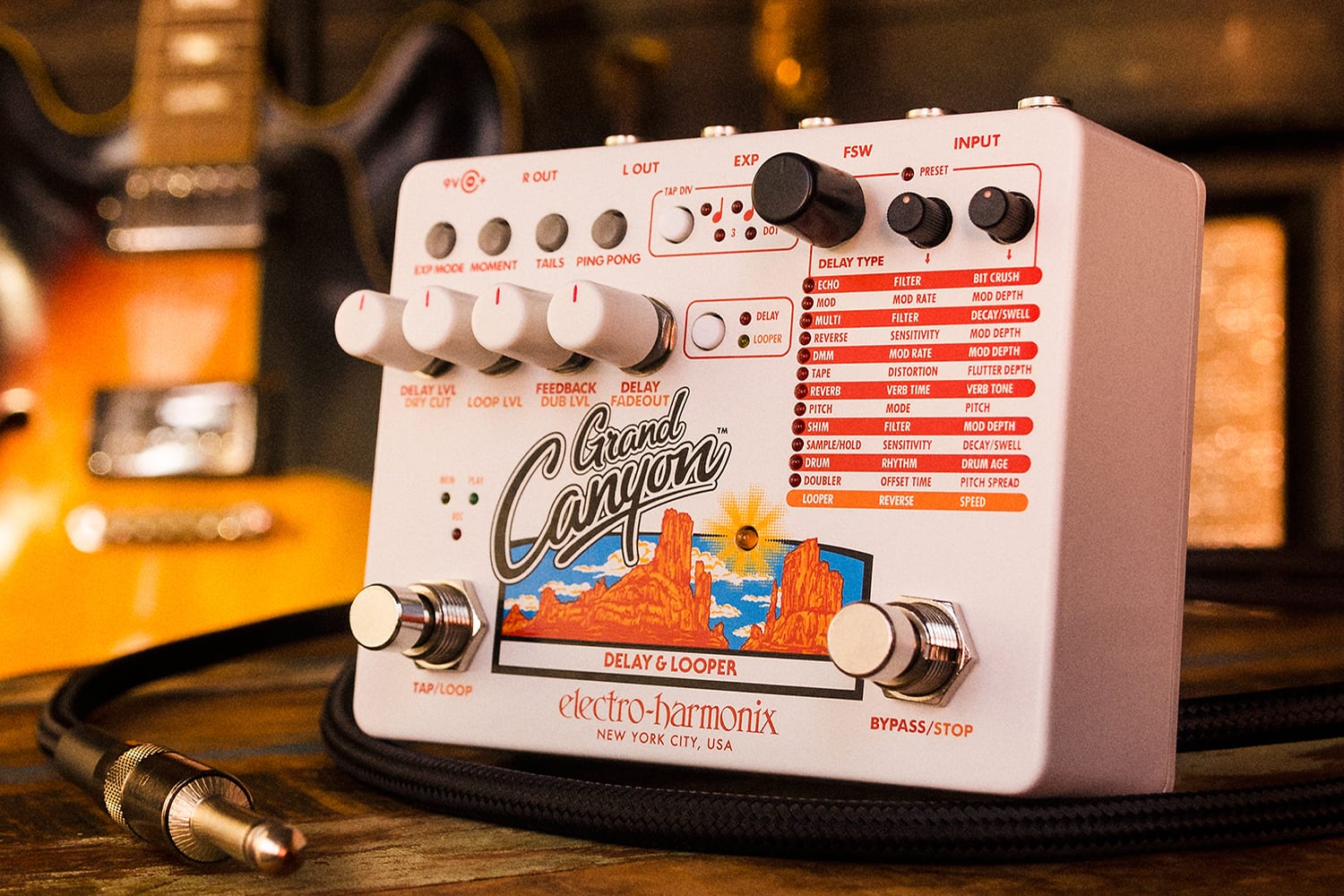 Grand Canyon
Delay & Looper
Advanced Multifunction Delay & Looper with 12 delay types, tap tempo, and extended control!
$308.20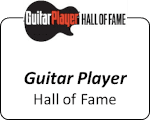 The EHX Grand Canyon is Electro-Harmonix's most advanced multifunction delay and looper pedal. It's equipped with 12 effect types plus a fully featured looper capable of recording and overdubbing the Grand Canyon's effects.
The pedal provides superior sound quality, up to three seconds of delay time, tap tempo and nine tap divide settings, stereo output, 13 presets, programmable EXP pedal settings, high quality analog bypass with soft switching and more. The Grand Canyon's 13 modes are:
1. ECHO – pristine 24-bit digital delay with available bit crush/sample rate reduction and low/high pass filtering
2. MOD – Modulated delay, yields rich flanger, chorus, vibrato, warble and more
3. MULTI – Multi-tap delay, set the exact number of echo repeats up to 31. Includes adjustable swell or decay volume envelopes on repeats.
4. REVERSE – Reverse delay, an easy-to-use reverse delay with an intelligent pick detection algorithm for great sounding reverse echoes
5. DMM – Deluxe Memory Man, re-creates the luscious tone of EHX 's legendary bucket-brigade delay pedal
6. TAPE – Tape Delay, simulates the organic sound of an analog tape, echo machine including tape distortion, wow and flutter
7. REVERB – Plate reverb plus echo. A reverberant echo where each repeat is followed by a wash of gorgeous plate reverb. Can also be used as a pure reverb without the delay
8. PITCH – EHX's critically acclaimed polyphonic pitch shifting plus digital delay provides pitch-shifted echoes and cascading echo repeats
9.SHIM – Shimmer generates a rich octave-shifted wash of shimmering soundscapes
10. SAMPLE/HOLD – Sample and hold, senses a note being played and produces echoes indefinitely until another note is detected
11. DRUM – Magnetic drum echo that faithfully emulates a classic Binson Echorec® style delay. Features an assortment of playback head configurations that let you create musical, rhythmic, echo patterns
12. DOUBLE – Thickens up a mono signal or creates a stereo spread. Includes detune and delay time offset of the left and right outputs
13. LOOPER – Looper with up to 16 minutes of recording time. Includes unlimited overdubs, undo/redo, dedicated stop button, loop fade-out, reverse and speed adjust.
Advanced multifunction delay and looper with up to three seconds of delay time
12 effect types that cover a ton of tonal real estate to fuel your creativity: ECHO, MOD, MULTI, REVERSE, DMM, TAPE, REVERB, PITCH, SHIM, SAMPLE/HOLD, DRUM, DOUBLER
Tails feature. Select whether the echoes fade out naturally or stops immediately when the pedal is switched to bypass mode
Tap tempo with nine tap divide subdivisons
Up to 16 minutes of recording time on the fully featured looper
Loop audio remains in the Grand Canyon until you erase it, even after removing power
13 presets can be saved or recalled
3-button footswitch connector for remote operation
Power adapter included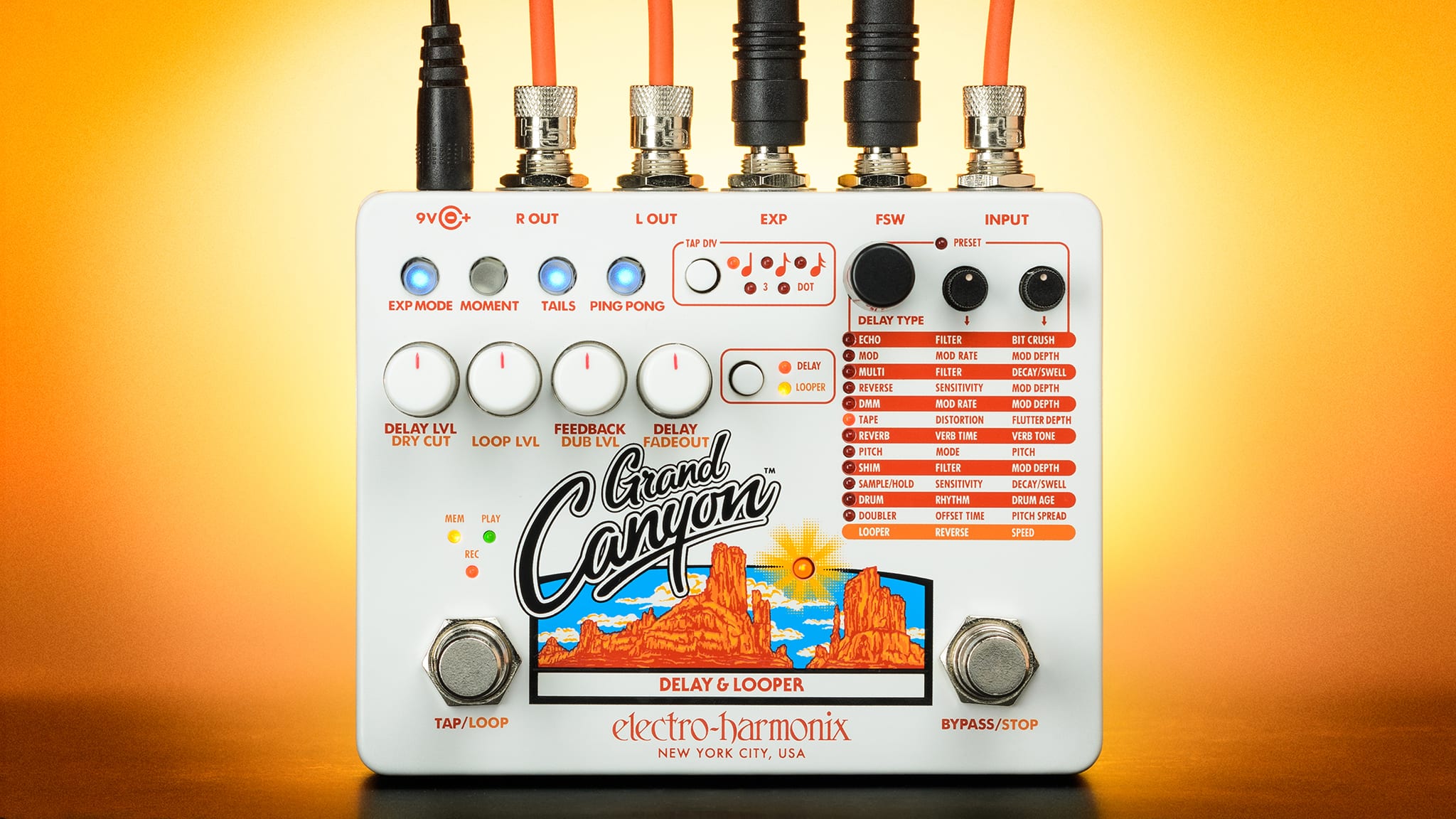 DELAY LVL
Wet/dry control that sets the balance between your dry signal and the delay effects produced by the Grand Canyon.
LOOP LVL
Controls the output volume of the looper's playback.
FEEDBACK
Controls the number of repeats of the delayed signal.
DELAY
Controls the delay time for all Delay Types.
DELAY / LOOPER MODE BUTTON
Pressing the Mode button cycles you through the three modes, allowing you to seamlessly integrate delay effects into your looping. You can also use an external footswitch to move between modes.
EXP MODE BUTTON
When this button is lit, EXP MODE is enabled. When an external expression pedal or control voltage is connected to the EXP jack on the rear of the Grand Canyon, you can control any combination of knob parameters with your foot. When the EXP MODE button is disabled (button is not lit), the external expression pedal acts as a volume pedal for the dry signal and the signal into the delay effect. This button is also used to set up Expression Settings.
MOMENT BUTTON
While in Delay or Delay+Looper modes, enabling MOMENT changes the function of the BYPASS/STOP footswitch to only allow the delay effects while the footswitch is pressed down. The delay effects are bypassed when the footswitch is released. When MOMENT is disabled, the BYPASS/STOP footswitch works like a normal latching footswitch, toggling between bypass and effect modes with each press and release of the footswitch."
TAILS BUTTON
When TAILS is enabled, the echoes continue to repeat after the pedal switches to bypass or to Looper mode, with the number of repeats set by the FEEDBACK knob.
PING PONG BUTTON
The PING PONG function bounces each delay repeat back and forth between the left and right outputs.
TAP DIVIDE BUTTONS AND LEDS
The TAP DIV function sub-divides the tempo tapped in via the TAP/LOOP footswitch to create shorter or longer delay times in sync with your tap time.
DELAY TYPE KNOB
Selects which Delay Type is active.
MINIATURE PARAMETER KNOBS
Functions change depending on the selected Delay Type. On the face of the Grand Canyon, below the Mini Knobs, there is a table listing the available Mini Knob functions for each Delay Type.
TAP/LOOP BUTTON
While in Delay mode, press and release the TAP/LOOP footswitch two or more times to set the delay time with your foot.
BYPASS/STOP
The BYPASS footswitch works like a standard latching footswitch when the MOMENT button is not lit: press and release to toggle between bypass and effect modes.
R OUT JACK
This is the right output jack in a stereo setup.
L OUT JACK
Use this output for a mono setup. In a stereo setup this is your left output.
EXP JACK
Connect an expression pedal with a TRS plug to this jack to allow external control over any of the Grand Canyon's knobs, or use it like a volume pedal on the dry signal before it hits the delay effects.
FSW JACK
Connect an external momentary footswitch to this ¼" jack.
INPUT JACK
This ¼" jack is the audio input.
"The Grand Canyon's core sound quality is excellent. Echoes are smooth and detailed, devoid of graininess or harsh resonance."
–Premier Guitar