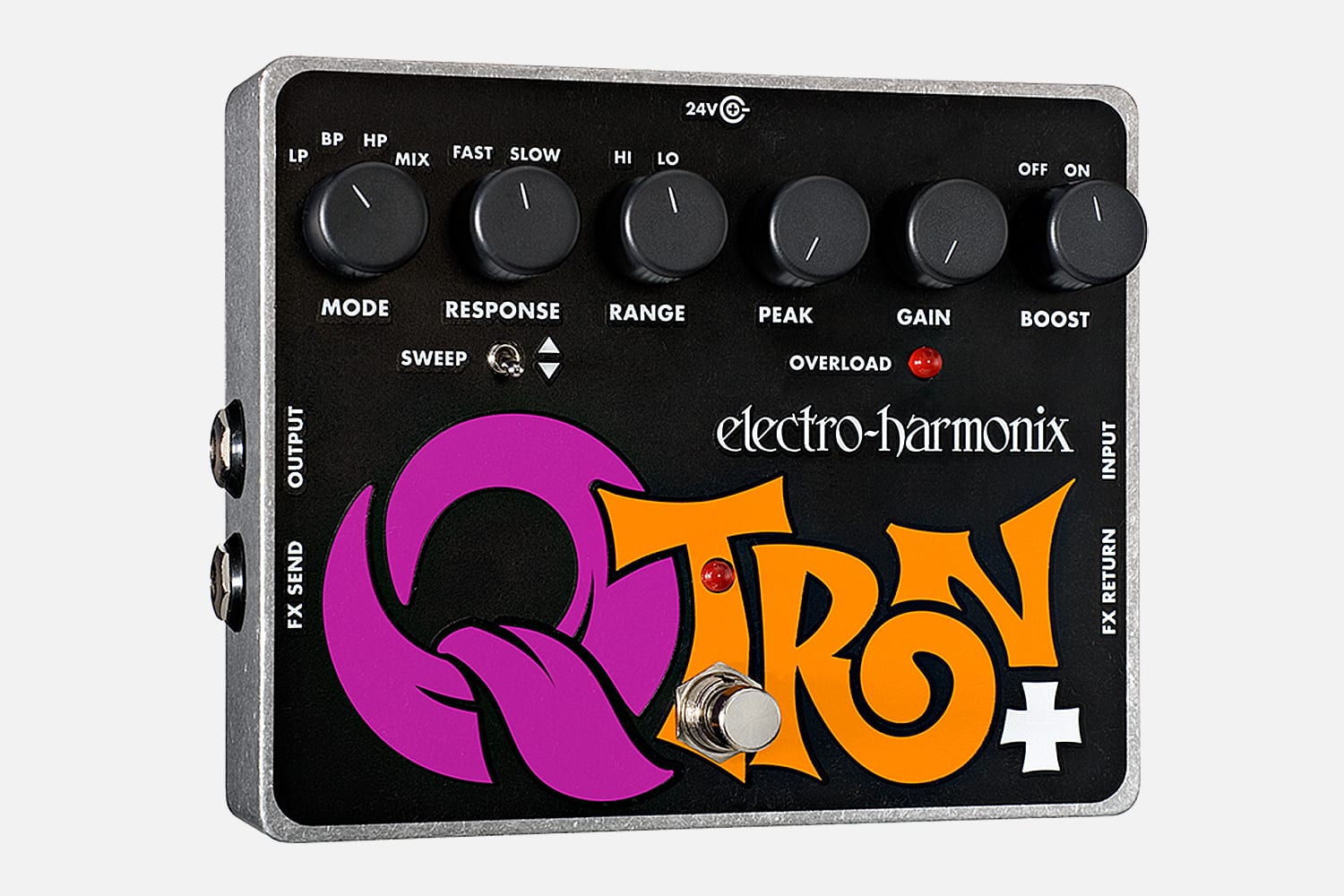 Q-Tron Plus
Envelope Filter with Effects Loop
The classic Q-Tron gets even funkier!
$192.30
Sound Clips
Classis Filter Sweep Funky
High Pass Filter Sweep Up
Distortion and Delay in Effects Loop
Same design as the original EHX Q-Tron but with extremely useful Effects Loop and an Attack Response Switch. The Effects Loop gives the musician the ability to place an additional effect, or chain of effects between the EHX Q-Tron Plus's preamp and filter section without changing the envelope drive. This is particularly important with most distortion devices, as most all do not have much of an amplitude envelope. The FX loop will also fire up your creative juices to try all sorts of combinations in the effects loop: try the Micro POG into a Deluxe Memory Man. You can invent all sorts of novel effects. The added Response Switch selects between a slow, smooth, vowel-like attack and the fast, snaked response of the original Q-Tron.
True bypass
Dedicated effects loop allows you to place any effect or pedal board into the loop
FX send and return without changing the envelope drive
Selectable low pass, band pass and high pass filters
Resonant peak control to adjust the filter's Q from subtle to dramatic
Response switch changes the reaction time of envelope follower from fast to slow
Switchable hi or lo frequency sweep ranges
Adjustable gain knob and boost switch
Sweep direction switch for up or down filter sweeps
Power adapter included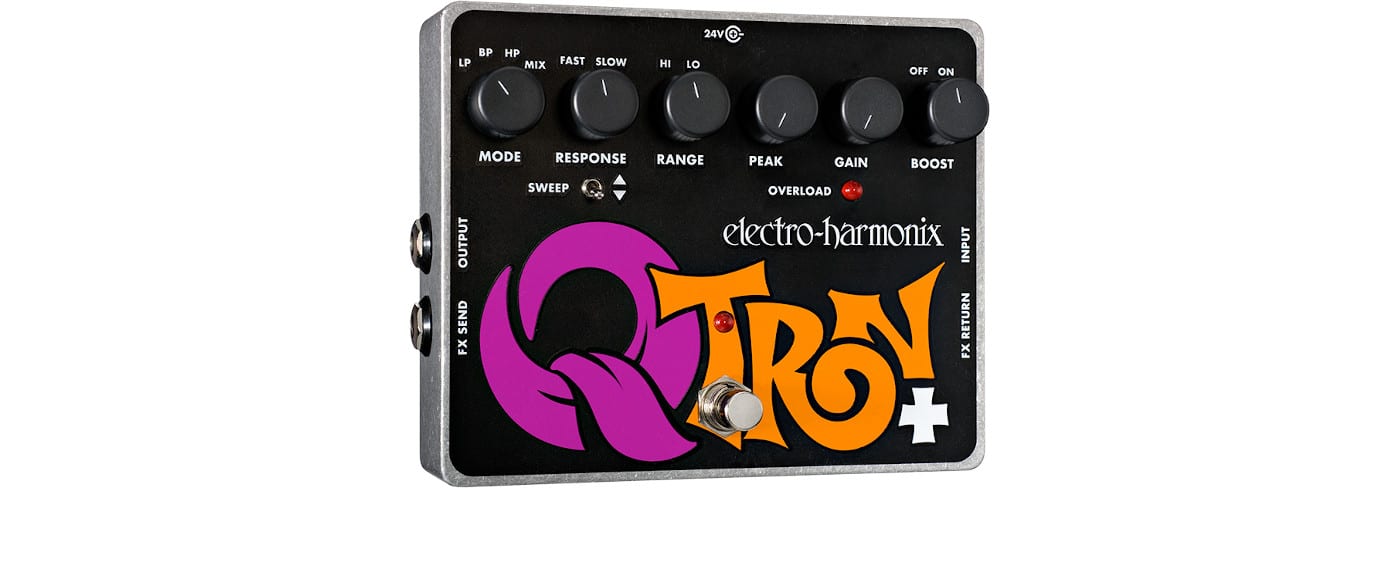 MODE SWITCH (LP, BP, HP, Mix)
Determines what frequency range the filter will pass.
RESPONSE SWITCH (FAST/SLOW)
Changes the sweep response between two optimized settings.
RANGE SWITCH (HI/LO)
Emphasizes vowel-like sounds in low position and overtones in high position.
PEAK CONTROL
Determines the resonance peak or Q of the filter.
GAIN CONTROL
In Boost mode, the Gain control functions as both a volume control and the filter sensitivity control.
BOOST SWITCH (NORMAL/BOOST)
Normal mode passes input signal through the filter at its original level. Boost mode increases the signal gain to the filter according to the Gain control setting.
SWEEP SWITCH (UP/DOWN)
Selects the direction of the filter sweep.
BYPASS SWITCH (IN/OUT)
Toggles between effect mode and bypass.
FX LOOP RETURN JACK
From External musical effect output to Q-Tron+ filter process.
INPUT JACK
Musical instrument signal input.
FX LOOOP SEND JACK
Musical instrument signal output to external musical effect.
EFFECTS OUT JACK
Output to amplifier.
"There are a TON of sounds trapped in this thing, just waiting to be released on the world and funkifize your soul."
–Pedal of the Day