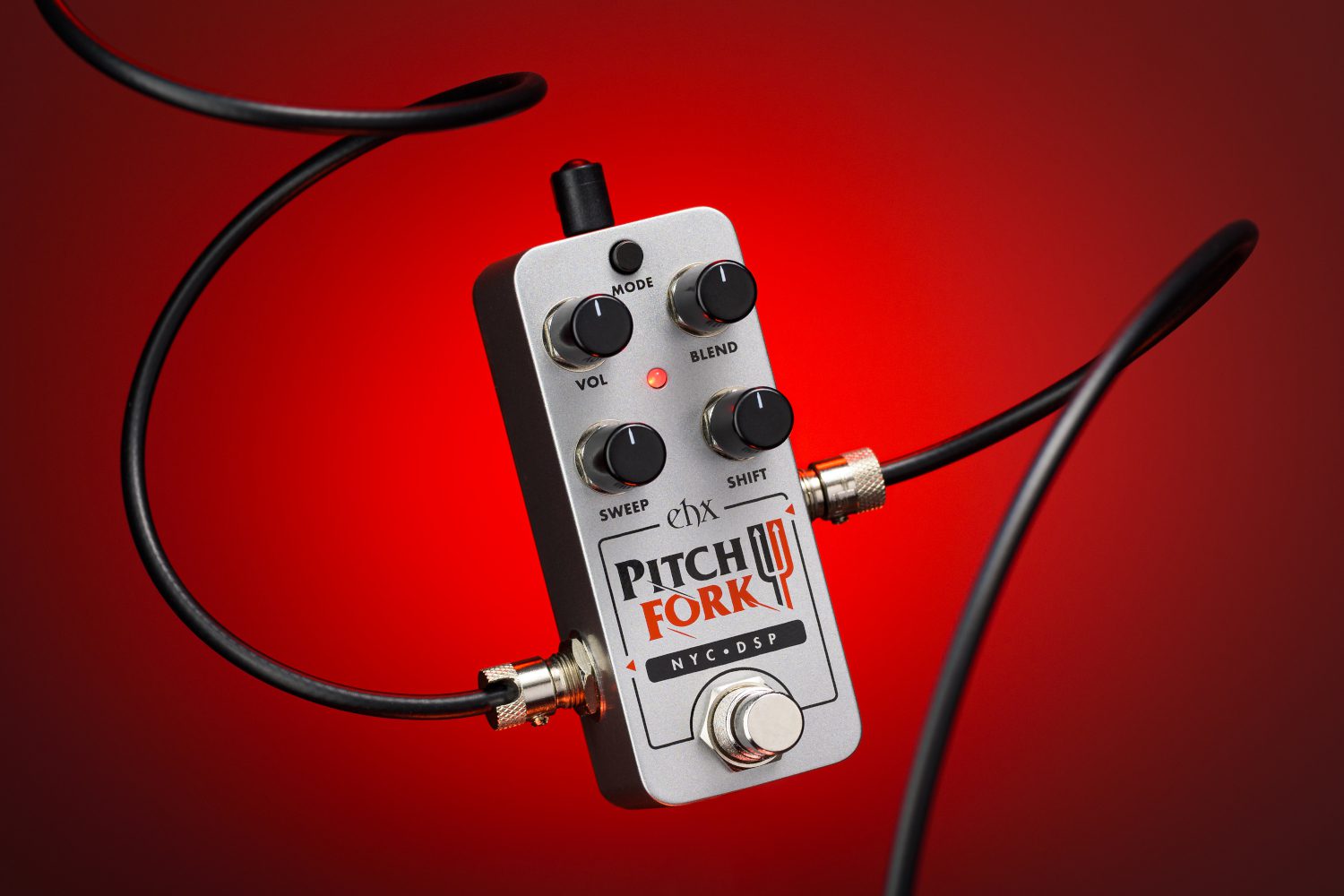 Pico Pitch Fork
Pitch Shifter
30 fully polyphonic pitch-shifting options under 15 square inches!
$217.60
Sound Clips
Octave Up Momentary Sweep

Offering a total of 30 pitch shift options and expanded controls, the Pico Pitch Fork is the next evolution in pitch shifting from Electro-Harmonix. The original Pitch Fork has garnered praise from all styles of player at every level and the Pico Pitch Fork brings even more features to the celebrated pedal in an impossibly small package.
The Pico Pitch Fork features 10 pitch shift intervals and three modes of pitch-shifting – Up, Down and Dual. Dual mode features specially paired pitch shift intervals to allow for more musical effects.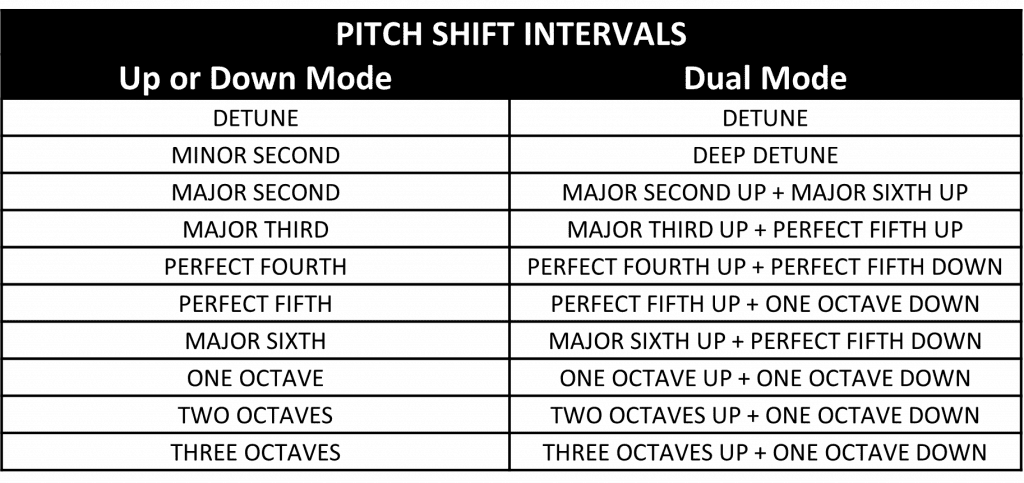 Controls on the Pico Pitch Fork are simple and effective. SHIFT selects the Pitch Shift interval. BLEND sets the wet/dry blend of the output mix while VOL adjusts the overall output volume. SWEEP controls pitch bend sweep time when toggling between bypass and effect and back to create automatic whammy effects. The Pico Pitch Fork's footswitch can operate in two modes: Latching and Momentary. Latching turns the effect on with one footswitch press and off with another while Momentary turns the effect on only when the footswitch is being held for instant bursts of pitch-shifting pandemonium.
Compact Pico chassis
Famous EHX pitch-shifting power with 30 pitch shift options
Mode button selects between Up, Down, and Dual modes
Latching and Momentary footswitch modes
VOL controls output volume
BLEND adjusts output wet/dry mix
SHIFT selects pitch-shift interval
SWEEP sets pitch bend sweep time for whammy effects
Selectable bypass topologies for flexibility in functionality
Power adapter included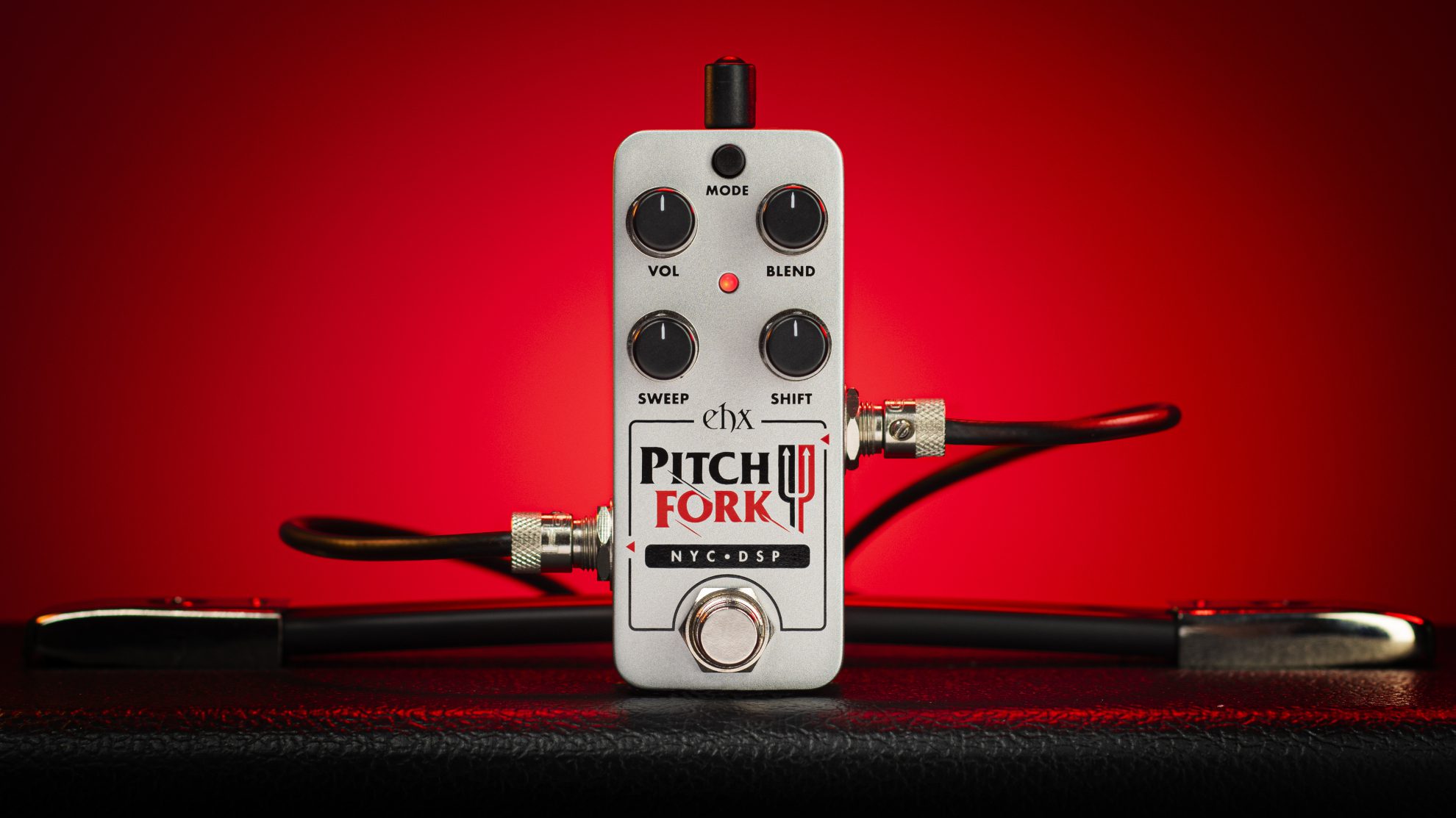 POWER JACK
Attach the output plug from the included power supply to the 9V power jack. Current draw: 100mA at 9.0VDC
MODE BUTTON
Press this button to choose your pitch shift direction: Red – PITCH UP, Green – PITCH DOWN, Orange – DUAL MODE
VOL KNOB
Controls the output volume.
BLEND KNOB
Adjusts the output mix from 100% dry to 100% wet.
SWEEP KNOB
Controls pitch bend sweep time, when toggling between bypass and effect and back. The higher the setting, the longer the sweep time which maxes out at 4 seconds. Set SWEEP to minimum to bypass pitch sweep.
SHIFT KNOB
Controls the pitch shift interval relative to the input signal. Whether the pitch is shifted up or down depends on the state of the MODE LED. The intervals are incremented as you move the knob from minimum to maximum. The LED flashes briefly each time a new interval is selected.
INPUT JACK
Audio input to the Pico Pitch Fork.
OUTPUT JACK
Audio output from the Pico Pitch Fork.
FOOTSWITCH & STATUS LED
Footswitch engages or bypasses the effect. The LED color indicates the selected pitch mode. In bypass, the LED is off.
"We're expecting very big things from this release!"
–Mike Matthews
Related Gear