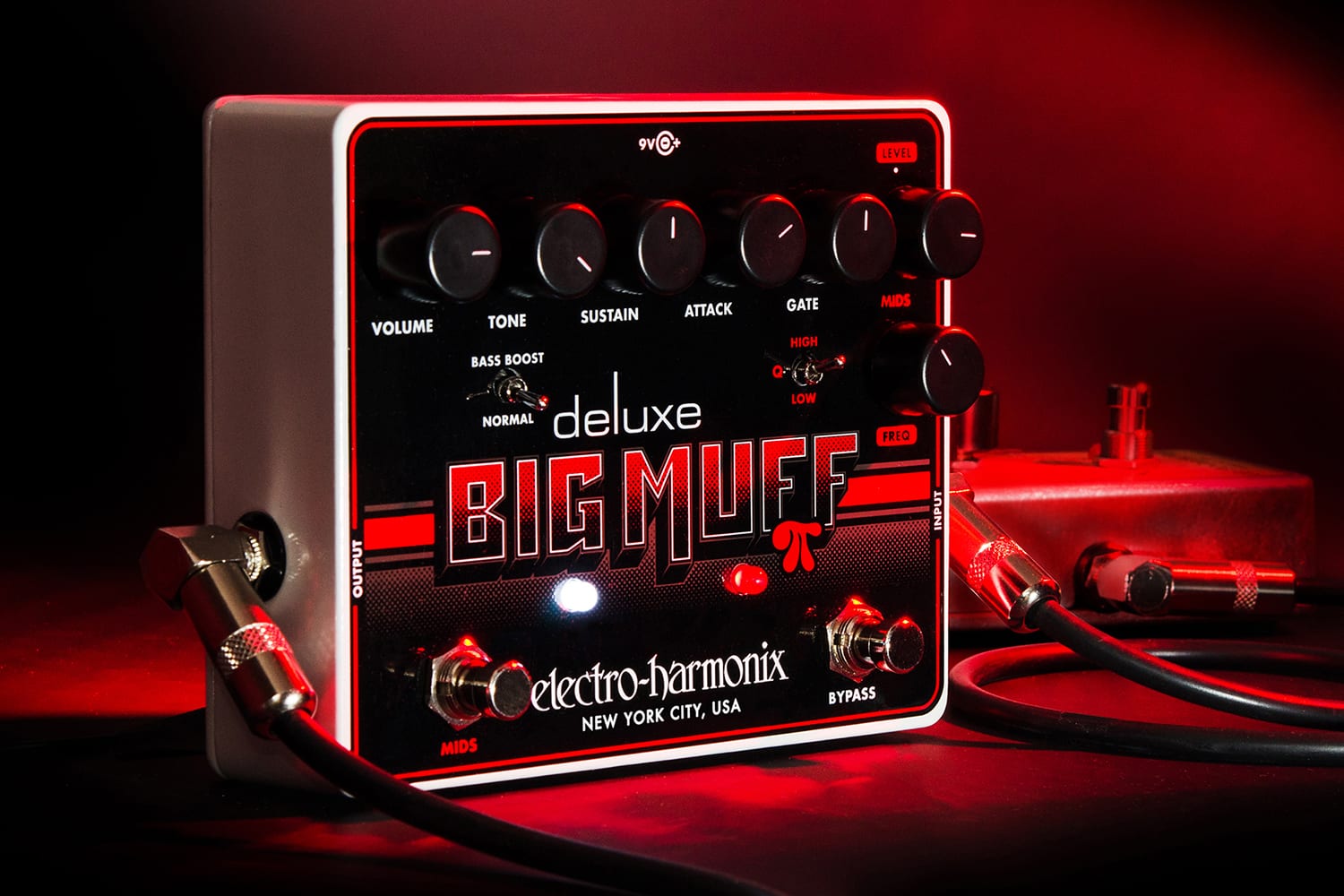 Deluxe Big Muff Pi
Fuzz / Distortion / Sustainer
Legendary fuzz with added features like a Bass Boost, Noise Gate, and adjustable Mids section for the most versatile Muff ever!
$150.60
Long revered for its sweet singing tone and violin-like sustain, the classic three-knob Big Muff Pi has helped define the sound of rock guitar for over 50 years. Now, we've added some extras for those who crave more sound shaping control. The EHX Deluxe Big Muff Pi delivers all the classic sounds of the original NYC Big Muff Pi, plus more.
Added footswitchable Mids sections boosts or cuts an adjustable mids frequency for added definition or massive scooped tones. Add an optional expression pedal and turn the Deluxe Big Muff into an extreme fuzzed out wah!
The Attack control preserves pick attack with an enhanced version of your dry signal while the Bass Boost adds rumble at higher tone settings. The Gate removes unwanted hiss for a more dynamic performance.
This is the most versatile Big Muff ever!
Download pedal settings from Bill Ruppert's demo video here.
Delivers all the classic sounds of the original NYC Big Muff Pi, plus extra features
Foot-switchable MIDS Section helps you cut through when recording or playing live
MIDS section features four controls so you can fine tune your midrange boost or cut
Noise gate with adjustable Gate control eliminates noise and hum while preserving your attack and original tone
Adjustable Attack control adds punch to your single notes and chords
Switchable Bass Boost for added bottom when you want it
Expression Pedal input lets you sweep the mids in real time
True bypass for maximum signal path integrity
9V battery included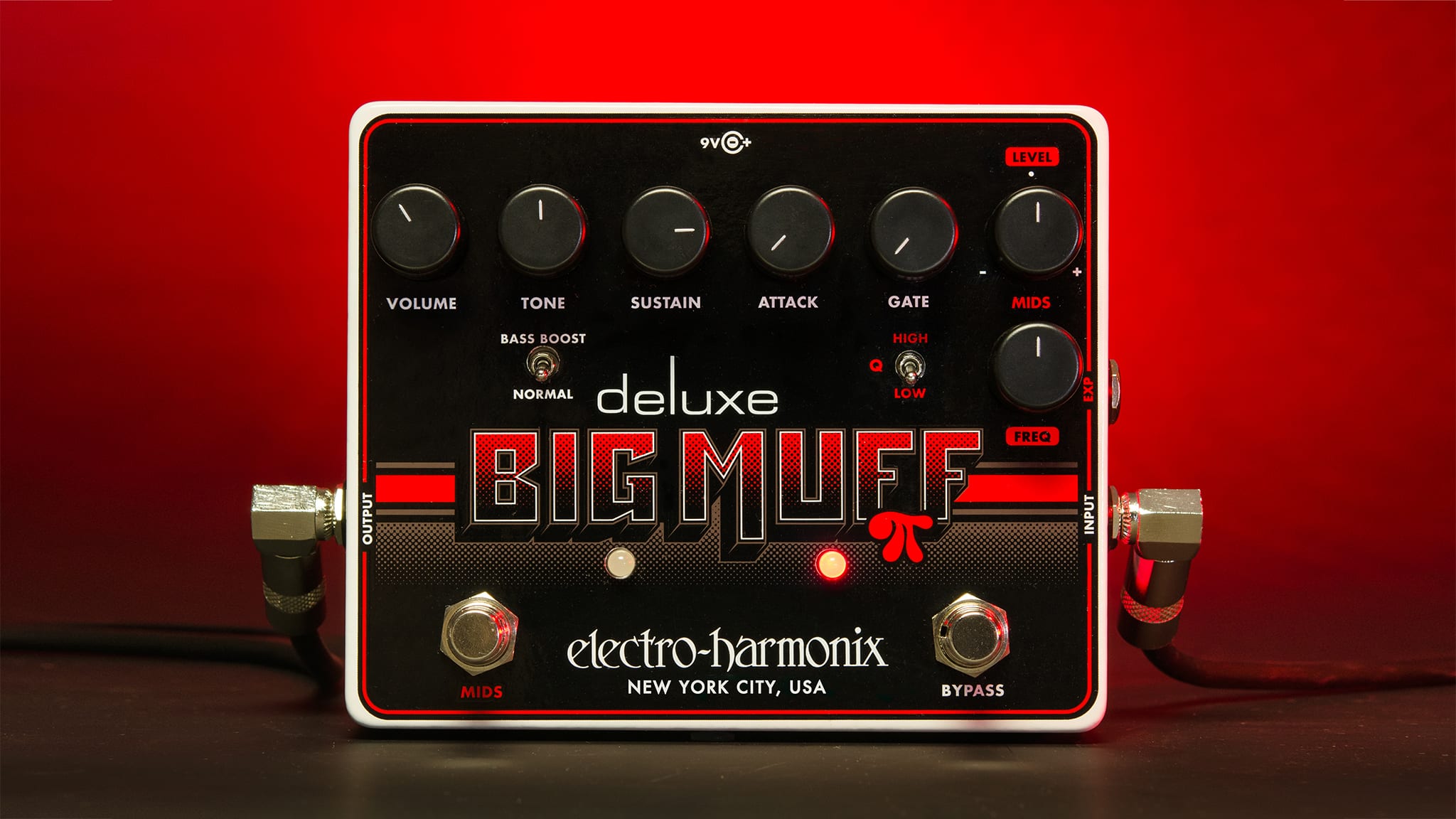 VOLUME KNOB
Works as a master volume control for the entire pedal.
TONE KNOB
Provides a range of sounds from high treble to deep bass.
SUSTAIN KNOB
As in the original Big Muff Pi, adjusts the amount of sustain and distortion.
ATTACK KNOB
Volume control for the Attack effect.
GATE KNOB
Turning GATE clockwise raises the Gate threshold requiring greater input amplitude to open the noise gate, allowing your notes to be heard and your instrument to pass through.
MIDS LEVEL KNOB
When MIDS is engaged, the MIDS LEVEL knob either boosts or cuts up to +/- 10dB, at the frequency set by the FREQ knob.
BASS BOOST/NORMAL SWITCH
When set to NORMAL, the Big Muff circuit is identical to the NYC Big Muff. Flip the switch up to BASS BOOST and the volume level of bass frequencies through the Big Muff circuit increases.
MIDS Q SWITCH (HIGH/LOW)
The Q switch sets the resonance or bandwidth of the MIDS EQ.
MIDS FREQ KNOB
Sets the center frequency of the MIDS EQ circuit ranging from 310Hz to 5.0kHz.
BYPASS FOOTSWITCH / LED
Toggles between effect mode and true bypass. When the red status LED is lit, the effect is active.
MIDS FOOTSWITCH / LED
Engages or bypasses the MIDS EQ section.
INPUT
Plug your instrument into here.
EXP INPUT
Connect an expression pedal with a TRS plug to this jack to sweep the MIDS center frequency with your foot or other extremity.
OUTPUT
This is the output of the Deluxe Big Muff Pi. Connect it to the input of your amp or another effects pedal.
"Never lose your Muff in a mix."
–MusicRadar