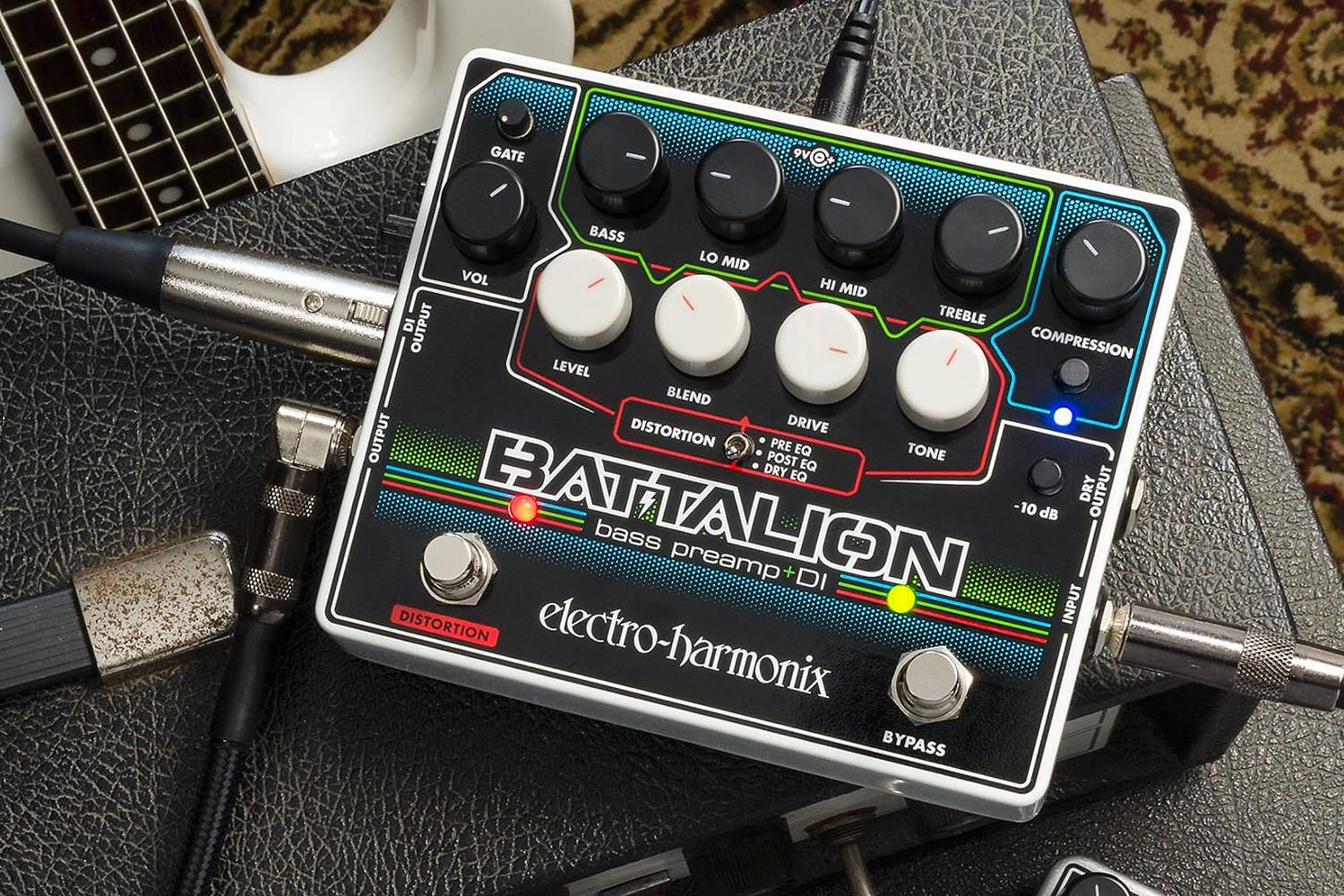 Battalion
Bass Preamp & DI
Flexible bass preamp and DI delivers powerful tone shaping capabilities in a rugged pedalboard-friendly package!
$174.20
The EHX Battalion Bass Preamp and DI is packed with a four-band equalizer, fully-featured MOSFET distortion section with three signal path options, a compressor, a noise gate and a comprehensive I/O. An all-in-one tone tank for your bass guitar.
Four-band EQ tailored specifically for bass guitar. Includes controls for Bass (below 200Hz), Lo Mid (boost/cut at 280Hz Mid (boost/cut at 750Hz) and Treble (boost/cut above 2kHz)
The Battalion's distortion section delivers an awesome array of distorted bass sounds
Distortion section features Level, Blend, Drive and Tone controls plus a dedicated footswitch
Three signal flow modes yield unique tonal variations. Pre EQ, distortion comes before EQ. Post EQ, distortion comes after EQ and Dry EQ, only the dry signal mixed in with the Blend control is affected by the EQ
Compressor with dedicated pushbutton, amount control and LED adds thump and sustain to your bass sound
Noise Gate with adjustable threshold control eliminates noise and hum while preserving your attack and original tone
Flexible I/O allows the Battalion to fit perfectly in any bass rig or application
¼ input jack includes switchable 10dB pad
Power adapter included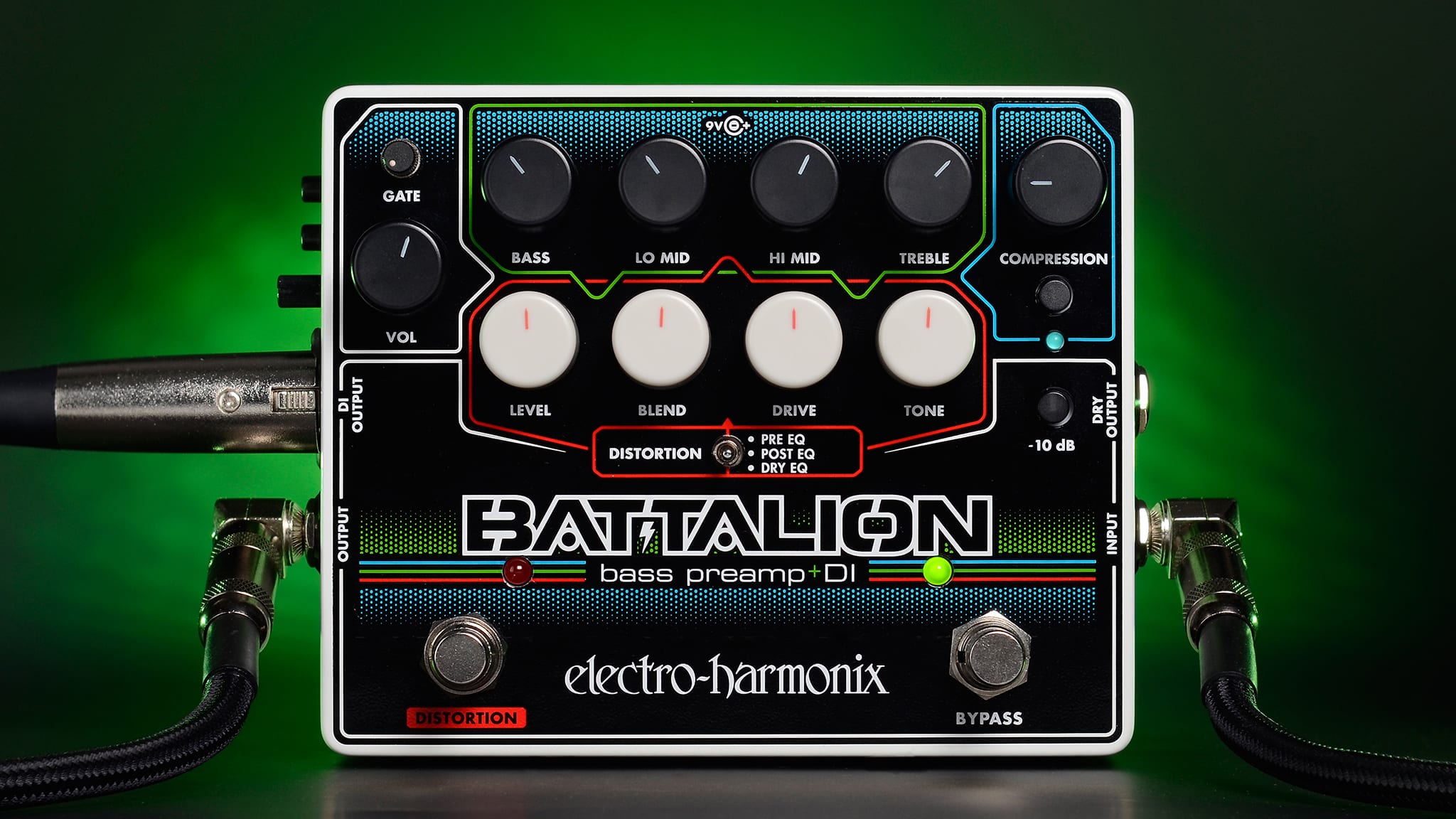 BYPASS FOOTSWITCH AND GREEN LED
The right LED illuminates when the effect is engaged. Press the footswitch to toggle between effect mode and bypass.
VOL KNOB
Sets master output level of the pedal.
GATE KNOB
Sets the threshold for the noise gate.
-10dB PAD BUTTON
Press to cut the input signal by 10dB, good for active basses or other basses with very strong output signals.
BASS KNOB
Boost or cut low end.
LO MID KNOB
Boost or cut low midrange frequencies.
HI MID KNOB
Boost or cut high midrange frequencies.
TREBLE KNOB
Boost or cut high end.
COMPRESSOR BUTTON AND BLUE LED
Use this switch to engage or bypass the compressor circuit.
COMPRESSOR KNOB
Determines the intensity of the compression.
DRIVE FOOTSWITCH AND RED LED
Use this footswitch to engage or bypass the distortion circuit. The Left LED will illuminate when the distortion is active.
LEVEL KNOB
Sets the output level of the distortion section.
BLEND KNOB
Controls mix between dry and distorted signal. Add more distortion by turning the knob up.
DRIVE KNOB
Affects the intensity of the distortion.
TONE KNOB
Cuts the high end from the distortion signal as you turn the knob down.
DISTORTION PRE/POST/DRY EQ SWITCH
Determines where the distortion circuit falls in the pedal's signal path.
INPUT JACK
Plug your instrument or the output of another effects pedal into this ¼" jack.
DRY OUTPUT JACK
Use this ¼" jack to output a dry, unaffected version of your bass signal.
OUTPUT JACK
Use this ¼" jack to output the signal, dry or affected based on the bypass status.
XLR JACK
Use this to output a balanced signal.
XLR VOL KNOB
Use this to set the volume of the XLR output.
XLR BYPASS BUTTON
Push in to have the XLR output the signal based on the bypass state of the pedal.
GROUND LIFT BUTTON
Push in to keep ground connected to pin 1 of the XLR jack. Leave out to disconnect pin 1 from ground.
"A value-for-money all-in-one bass tone solution."
–Guitar World