Electro-Harmonix unveiled the compact 5MM Guitar Power Amplifier which produces 2.5 watts and can be connected directly to an 8 Ω – 16 Ω speaker cabinet.
The 5MM is equipped with a Volume control and a Bright/Norm switch which, when engaged, adds top boost or presence to the signal. EHX Founder, Mike Matthews stated: "You can use the 5MM alone to go from a sparkly clean tone to raw bluesy grit or plug a dirt/overdrive pedal or preamp into it. Then turn it up for some gnarly grind, or really crank it and get bathed in distortion!"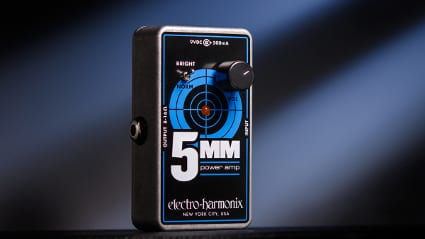 The 5MM comes equipped with a power supply, and is available now.