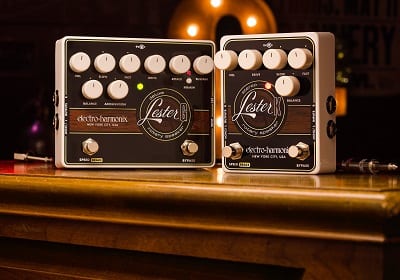 Electro-Harmonix has unveiled the new Lester G and Lester K Stereo Rotary Speaker Emulators.
Lester G
There's nothing like the sound of a Leslie® rotary speaker cabinet on guitar. That's why legendary players like Jimi Hendrix, George Harrison, Eric Clapton and others have relied on the iconic effect. Now, for those looking to get that unmistakable sound with the convenience of a pedal, EHX introduces the Lester G: ultimate stereo rotary speaker emulator for guitar.
Don't miss Bill Ruppert's jaw-dropping video featuring the new Lester G.
Lester K
We're also pleased to introduce the Lester K stereo rotary speaker emulator designed for organ-type keyboards. The K doesn't include all the Lester G's features like a built-in compressor, but for guitarists who already own a compression pedal, it kicks butt! Watch guitarist Jon Skibic put the Lester K thru its paces.
Leslie® is a registered trademark of Suzuki Musical Instrument Manufacturing.