Here's a great special effect that's perfect for an intro or guitar break within a song.
Nothing is more dramatic to the human ear than a drastic instant shift in sound frequencies.
Going from a full-bodied guitar sound to one that sounds like it's being blasted out of a two-inch speaker in a transistor radio is a perfect way to accomplish this.
The Riddle pedal produces this sound via its high pass filter. A high pass filter allows only the upper frequencies to be heard while chopping off the bottom or low end. This mimics the sound of a very small speaker.
Using the Riddle onboard distortion creates the overdrive effect of a small pocket radio turned up just a little too loud. Turning up the sensitivity knob even further will produce the sound of a transistor radio with its battery ready to die.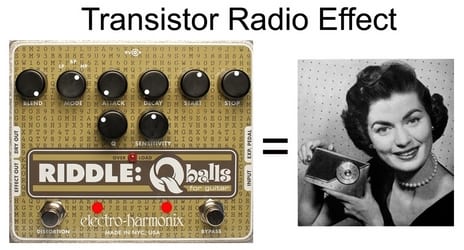 Click the link below to hear a track sample:
EHX Tone Tips #2 Audio Track
Breakdown of the track:
1. Dry unaffected guitar
2. Transistor radio effect on
3. Full band entrance-fade
The full band sound used the following pedals:
Guitars- English Muffin
Bass- Guitar into a Octave Multiplexer and a Bass Big Muff.
Previous Tone Tips posts:
Stay tuned, more Tone Tips posts coming soon!
This pedal was conceived of and designed by EHX from globally sourced components. Every EHX pedal goes through a stringent testing process by musicians and technicians in NYC before packing.