1979, a first class U.S. postage stamp costs 15 cents, a loaf of bread 43 cents and a gallon of gas 86 cents. Across the pond, Margaret Thatcher becomes the first woman ever to be elected Prime Minister of the U.K.
Closer to home, another Brit, Sid Vicious, dies of a heroin overdose while on trial for the murder of his girlfriend. Nancy Spungen succumbed to a single stab wound. Her body was found in their room at the Chelsea Hotel, which was actually located up the block from Electro-Harmonix at 222 West 23rd Street in NYC. Meanwhile, Mike Matthews and the boys down at 27 West 23td Street, were busy getting the word out on the revolutionary Micro-Synthesizer with this ad.
Click here to see the ad: EHX Flashback Micro-Synthesizer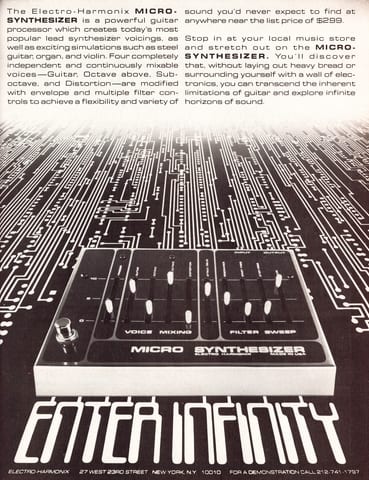 Previous Flashback Posts:
Stay tuned, more Flashback posts coming soon!