Sovtek Deluxe Big Muff Pi
Fuzz / Distortion / Sustainer
The Sovtek signature sound - all here in one integrated pedal!
$174.20
Sound Clips
Guitar Rhythm Control Adjustment
Guitar with Filter Expression
Sovtek Deluxe Big Muff Pi
Did you know? The circa 1991 Sovtek "Civil War" Big Muff (dubbed that because of its blue and gray chassis) used the same circuit as the "Tall Font Green Russian" Big Muff and our EHX Green Russian Big Muff! The new EHX Sovtek Deluxe Big Muff expands on that big, wooly sound with the addition of the Deluxe Big Muff's advanced controls while paying homage to the Civil War Big Muff aesthetic.
It's all here in one integrated pedal. The Sovtek signature sound. The devastating low end, crisp highs and non-scooped mids, plus the advanced control of the Deluxe Big Muff in a single, completely integrated pedal.
We've kept the familiar Sustain, Tone and Volume knobs, and we've added a ton of extras from the Deluxe Big Muff for those who crave its deep sound shaping abilities.
A fully integrated pedal that combines the "Civil War" / "Tall Font" Green Russian Big Muffs plus the Deluxe Big Muff Pi
Foot-switchable MIDS EQ section that delivers extensive sound shaping control
High Q / Low Q switch
Wicker switch to open up high frequency bandwidth
Noise Gate
Expression pedal input
9V battery included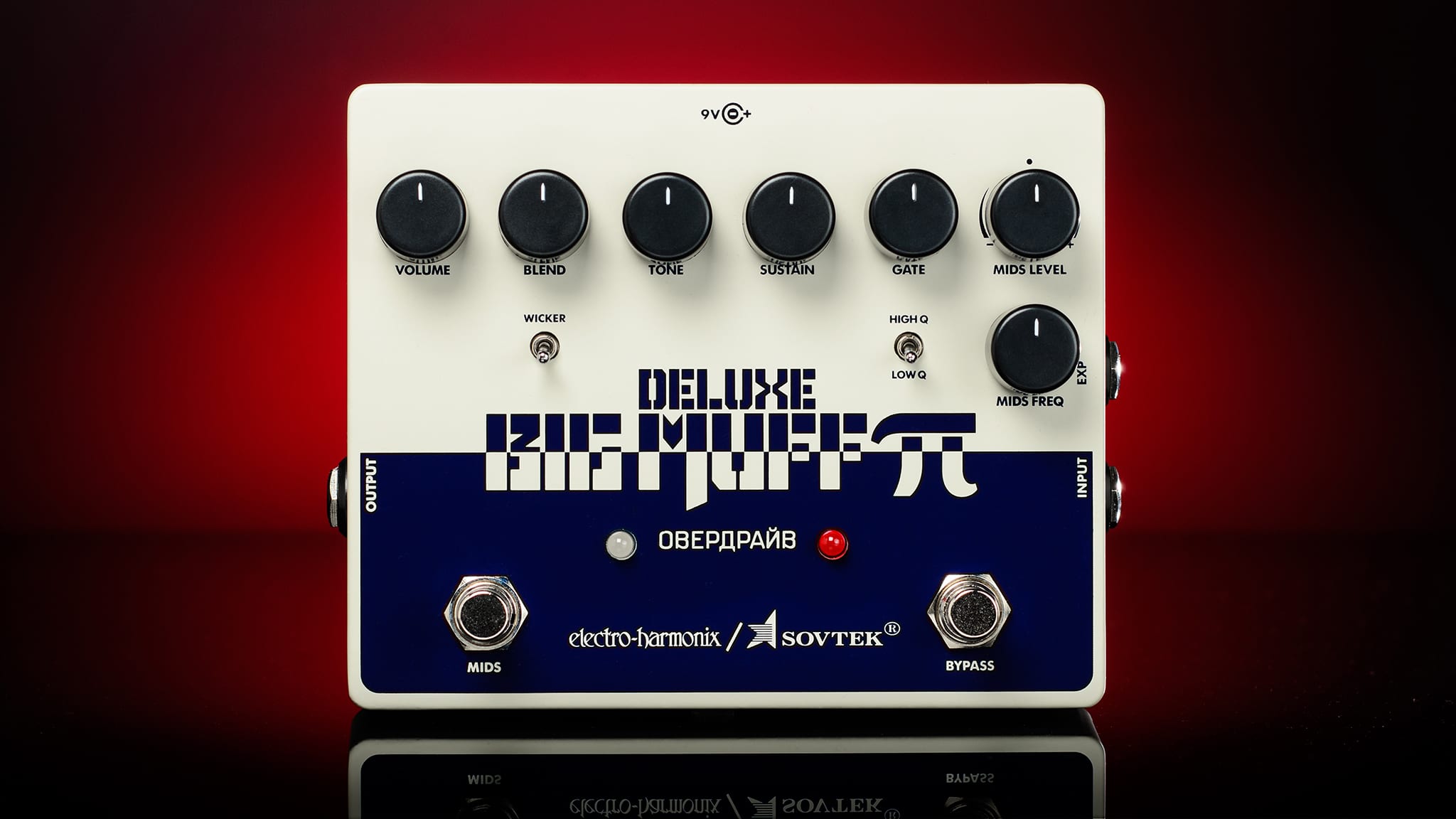 VOLUME KNOB
Works as a master volume control for the entire pedal.
BLEND KNOB
This mixes between the dry and distorted signals.
TONE KNOB
Provides a range of sounds from high treble to deep bass.
SUSTAIN KNOB
Adjusts the amount of sustain and distortion.
GATE KNOB
Raising the Gate threshold requires greater input amplitude to open the noise gate, allowing your notes to be heard and your instrument to pass through.
MIDS LEVEL KNOB
When MIDS is engaged, the MIDS LEVEL knob either boosts or cuts up to +/- 10dB, at the frequency set by the FREQ knob located below it.
MIDS FREQ KNOB
Sets the center frequency of the MIDS EQ circuit ranging from 310Hz to 5.0kHz.
WICKER SWITCH
With the switch up, the wicker is engaged and high frequency bandwidth is opened up for a bright and clear top end and more pronounced attack.
MIDS Q SWITCH (HIGH/LOW)
The Q switch sets the resonance or bandwidth of the MIDS EQ.
MIDS FOOTSWITCH / LED
Engages or bypasses the MIDS EQ section.
BYPASS FOOTSWITCH / LED
Toggles between effect mode and true bypass. When the red status LED is lit, the effect is active.
INPUT
Plug your instrument into here.
EXP INPUT
Connect an expression pedal with a TRS plug to this jack to sweep the MIDS center frequency with your foot or other extremity.
OUTPUT
This is the audio output. Connect it to the input of your amp or another effects pedal.
"The Sovtek's Russian accent barks out with a whole lot more grind."
–Guitar Magazine