Nano Battalion
Bass Preamp & Overdrive
An amazing array of bass tones!
$133.30
Sound Clips
EQ Switch in Distortion Mode
The all-analog circuitry of the EHX Nano Battalion provides an amazing array of bass tones in a sturdy, compact package. A versatile MOSFET drive circuit that can deliver everything from subtle, light overdrive to fully saturated distortion forms the pedal's core.
The Nano Battalion features a three-band EQ with three EQ position modes for maximum flexibility and sound shaping control. The three-band EQ includes Treble (boost/cut above 1kHz) and Bass (boost/cut below 200Hz) controls, plus a Mid switch which provides a 9dB boost or cut at 500Hz. Three signal path options determine where the EQ is applied. In Distortion Mode the EQ comes after the distorted signal and has a powerful effect on its timbre while the clean signal is not affected. In Input Mode the EQ comes first in the signal path affecting both the clean and distorted signals. Boosting frequencies in this mode can drive the distortion to a more saturated state. In Dry Mode the EQ affects the clean signal, but not the distorted signal.
The Nano Battalion includes a ¼" input jack and ¼" output jack. When a normal TS cable is connected to the output jack it delivers an unbalanced signal. When a TRS cable is plugged into this jack, it outputs a balanced signal that can go directly into a mixing console or recording interface.
The Nano Battalion is a powerful, versatile tool for bass players.
All analog circuit with MOSFET drive for great tone and variation
Three-band EQ and three EQ position modes for maximum sound shaping control and flexibility
Great for active or passive, pickup-equipped basses
¼ inch output provides an unbalanced output with a TS cable or a balanced signal with a TRS cable to right into a mixing console or recording interface
Power adapter included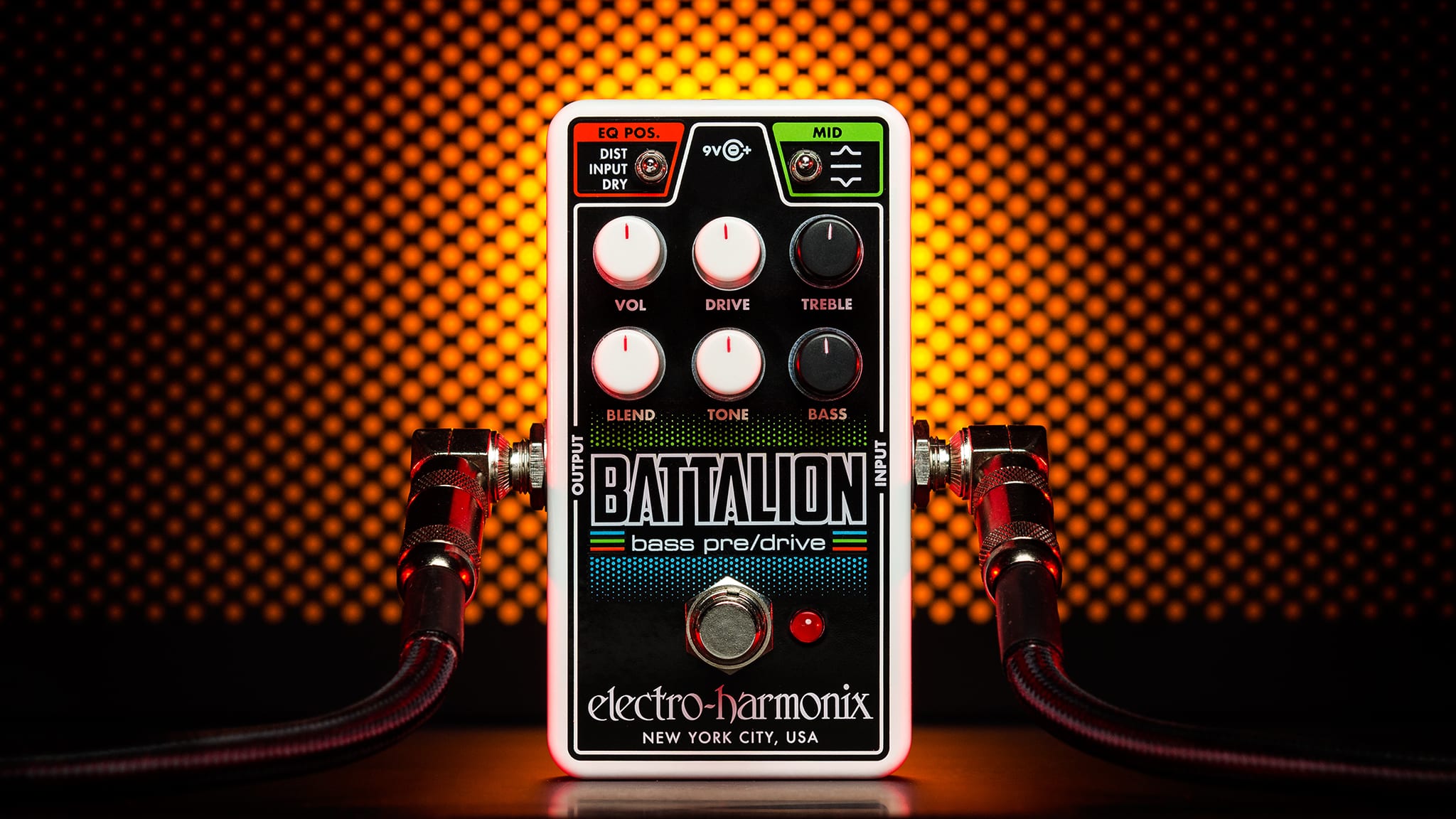 VOL KNOB
Sets master output level of the pedal.
DRIVE KNOB
Sets the intensity and saturation of the distortion.
TREBLE KNOB
Boost or cut high end.
BLEND KNOB
Sets the ratio between clean signal and distorted signal.
TONE KNOB
Cuts high frequencies from the distortion as the knob is turned down.
BASS KNOB
Boost or cut low end.
EQ POSITION SWITCH
determines where the EQ falls in the Nano Battalion's signal path.
MID SWITCH
In the upwards position, 9dB boost around 500Hz. In the downwards position, 9dB cut around 500Hz.
BYPASS FOOTSWITCH & LED
The LED illuminates when the effect is engaged. Press the footswitch to toggle between effect on and bypass mode.
INPUT JACK
Plug your bass, or the output of another effects unit, into this jack with a standard ¼" TS cable.
OUTPUT JACK
Use this to plug the output into a bass amp or another effects unit.
"Whether mimicking a mild break-up or pushing a more grind-y distortion, I appreciated its smooth, natural-sounding character, clarity, and intuitive interplay with the EQ."
–Premier Guitar