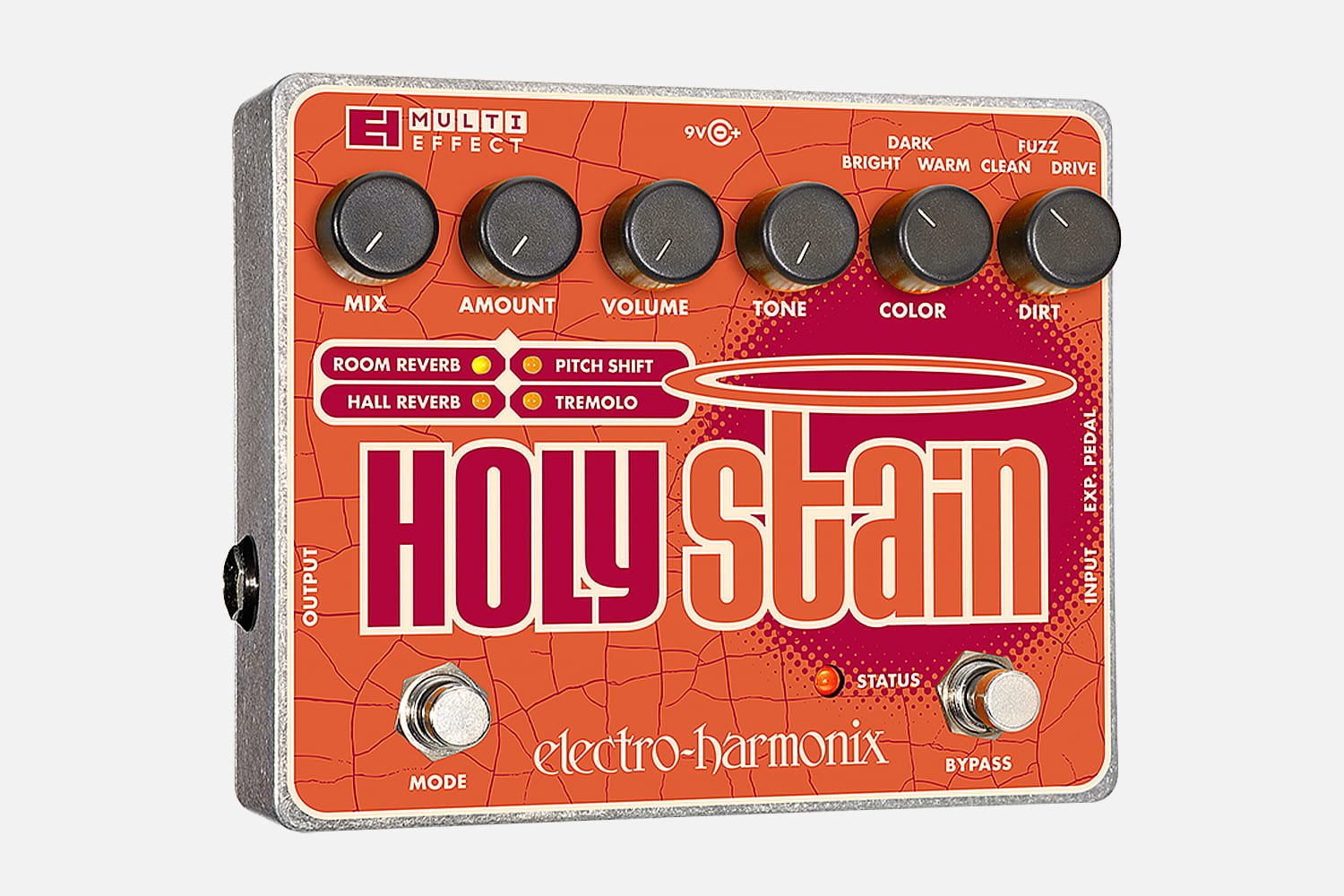 Holy Stain
DISCONTINUED 2022 | Distortion / Reverb / Pitch / Tremolo Multi-Effect
Combine a kaleidoscope of effects!
DISCONTINUED 2022
The first multi-effect pedal from Electro-Harmonix! The EHX Holy Stain is comprised of two stages: an analog distortion and a DSP. Two types of distortion are available: Fuzz and Drive. There are four DSP functions: Room Reverb, Hall Reverb, Pitch Shift and Tremolo. You can choose from one distortion mode and one DSP mode at a time or bypass either stage. Please read further to learn how to fully operate your Holy Stain.
The brilliance of the Stain lies in the dynamic interaction of its controls.
True bypass
Selectable analog fuzz, overdrive or clean tone
Selectable hall or room reverb, tremolo, pitch shifting
Mixable effect combinations
Three musical tone colors
Optional expression pedal control over pitch shifting, reverb time or tremolo rate
Tough and compact die-cast chassis
Power adapter included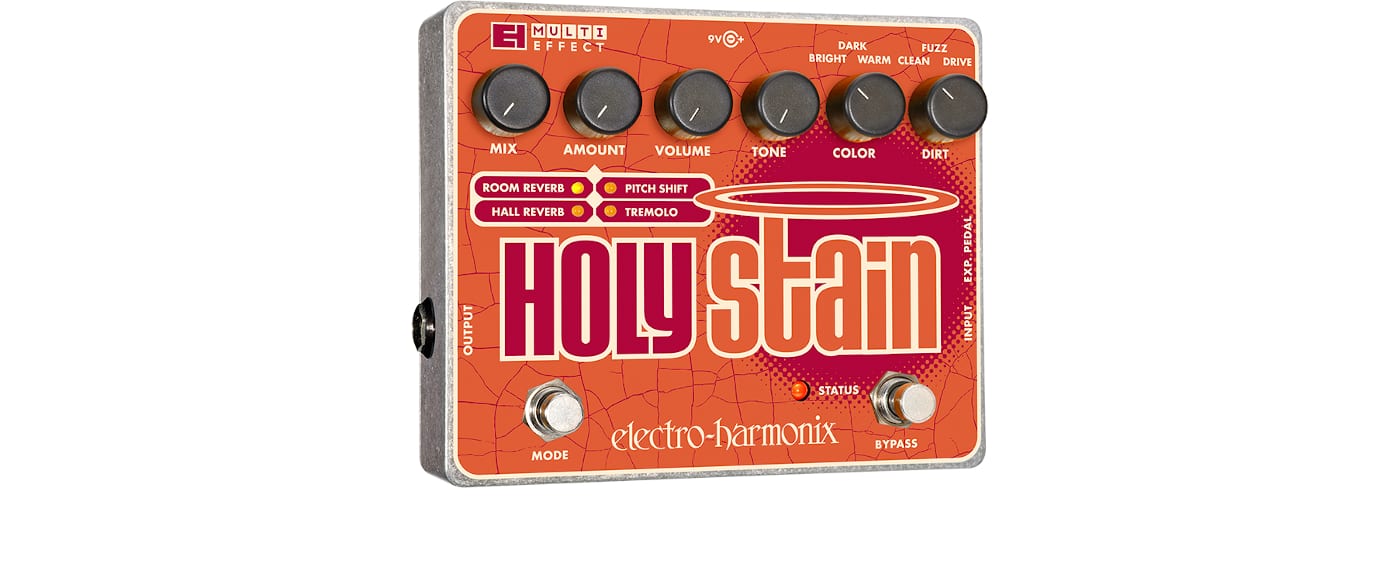 MIX KNOB
This control sets the balance between the output of the distortion and the output of the DSP.
AMOUNT KNOB
Controls the DSP parameters. The function of this knob changes for each DSP setting.
VOLUME KNOB
Sets the output level of the distortion stage.
TONE KNOB
As you turn the TONE knob counter-clockwise from its middle position, the bass response will increase and treble will decrease. As you turn the TONE knob clockwise from the middle, the treble response will increase and bass will decrease.
COLOR SWITCH
Switches between BRIGHT, DARK and WARM.
DIRT SWITCH
Switches between CLEAN, FUZZ and DRIVE.
MODE FOOTSWITCH AND LEDs
Cycles through the 4 DSP effects.
STATUS LED AND BYPASS FOOTSWITCH
The BYPASS Footswitch toggles the Holy Stain between effect and bypass modes. When the STATUS LED is lit, the Holy Stain effect is active.
INPUT JACK
This 1/4" jack is the audio input.
EXP. PEDAL JACK
This 1/4" input accepts an Expression Pedal with TRS connection. The Expression Pedal takes over the AMOUNT knob so that you can modulate the DSP effects with your foot.
OUTPUT JACK
This 1/4" jack is the audio output.
"This is not boutique butter tone, this is rock-n-roll. The analog fuzz and drive tones make no apologies, and the DSP effects sound great. For the price, you really can tweak a lot of sounds from this box."
–Premier Guitar