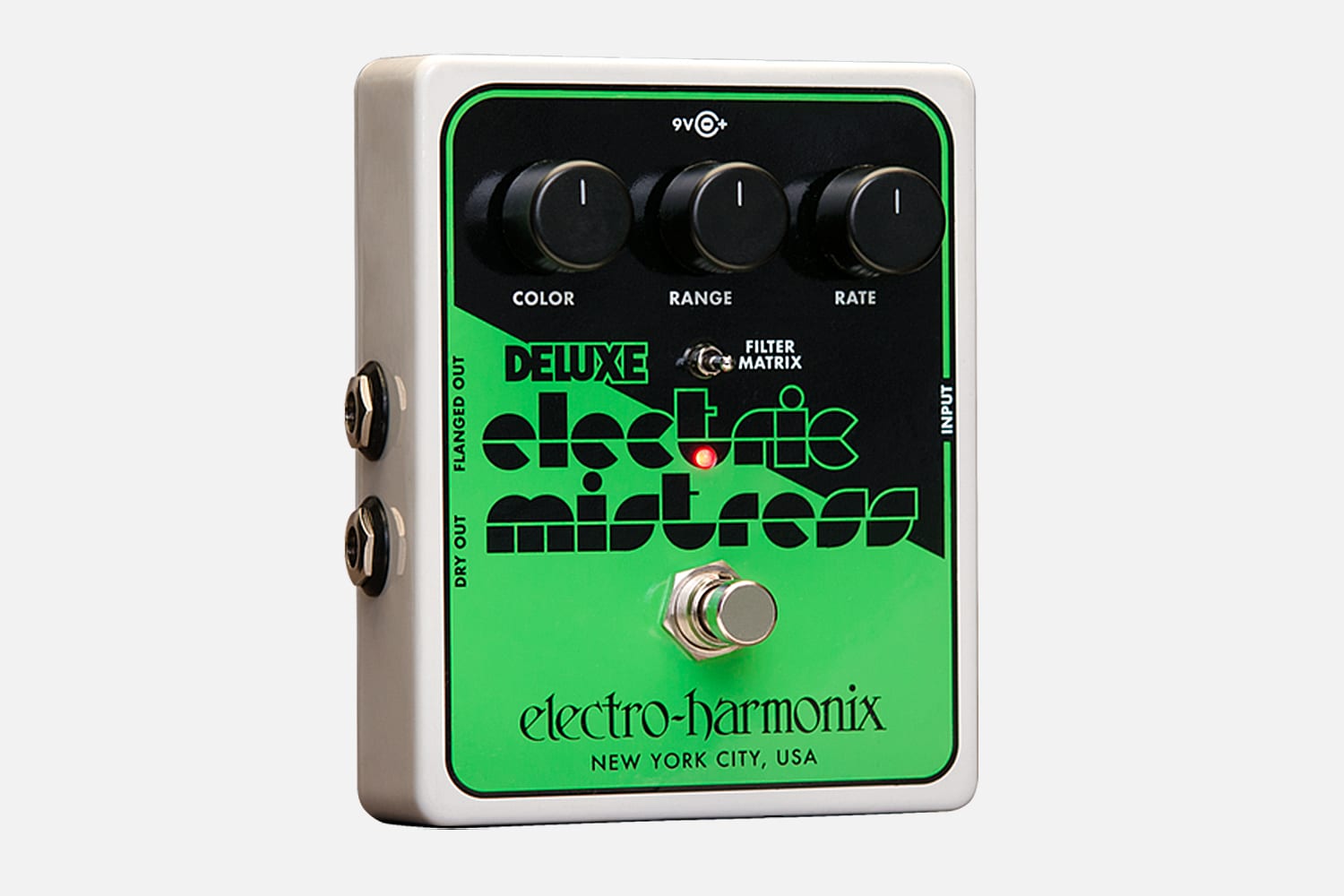 Deluxe Electric Mistress
DISCONTINUED 2023 | Analog Flanger
Rich, resonant flanging plus a unique Filter Matrix effect!
DISCONTINUED 2023
The original Electric Mistress was introduced in 1976 and the Deluxe version followed two years later. Throughout its decades-long history, musicians have consistently been captivated by its rich, resonant flanging and unique Filter Matrix effect.
The classic Deluxe Electric Mistress Flanger is now available in a compact die-cast package with a number of enhancements to make the venerable analog pedal more user-friendly for today's pedalboard using players. The circuit remains true to its roots, but power is now supplied via a standard power supply. True Bypass switching ensures maximum signal path integrity when the effect is switched off, and an LED has been added to indicate when the effect is engaged.
The same incredible, rich, resonant flanging now in a pedalboard friendly package
Unique Filter Matrix mode stops the sweep for freeze-frame tones and tricks
LED to indicate when effect is engaged
True Bypass for maximum signal path integrity
Power adapter included
COLOR KNOB
Sets the intensity of the flanger effect.
RANGE KNOB
Sets the lower limit of the flanger sweep.
RATE KNOB
Controls the speed of flanger modulation.
FILTER MATRIX SWITCH
When this switch is set to the right position, the modulation waveform is disconnected from the flanger circuit, freezing the flanger and creating a matrix of filters.
FOOTSWITCH AND LED
The Footswitch toggles between effect and bypass mode.
INPUT JACK
This ¼" jack is the audio input.
FLANGED OUT JACK
This ¼" jack is the effect output.
DRY OUT JACK
This ¼" jack is connected directly to the INPUT jack giving you access to your input signal.
"Excellent analog tones, easy to use, and the Filter Matrix is still totally awesome."
–Tone Report