A week ago, we announced the countdown to the new Deluxe Memory Man, and that the classic 'trapezoid' Deluxe Memory Man would be discontinued.
But thanks to your feedback, we now have a better plan.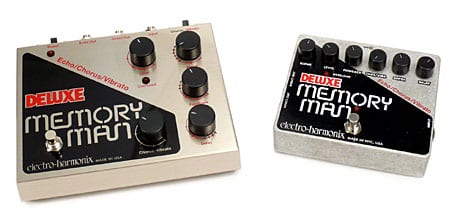 1. Starting today (April 20) we will begin taking orders from stores for the new Deluxe Memory Man. It's the exact same warm analog circuit, with premium vintage 'bucket brigade' chips, all housed in our more pedalboard-friendly enclosure. They're ready to go, so ask your favorite EHX dealer.
2. We will continue to sell the Classic Chassis for as long as we can, which we currently estimate at roughly one month. But, rather than become "discontinued" they will be considered "unavailable."
3. Both the new and classic versions of the Deluxe Memory Man will be available globally. Whether you're in the US, UK, EU (or wherever) you now have a choice of either the new or classic design.
This arrangement should be better for everybody.

If you've been waiting for the new chassis, now you can finally get it. If you're a fan of the classic design, we'll do our best to keep them available (though we do suggest you get yours soon).
This pedal was conceived of and designed by EHX from globally sourced components. Every EHX pedal goes through a stringent testing process by musicians and technicians in NYC before packing.