Electro-Harmonix announces electric guitar strings custom-designed to our specifications and made in the USA by a premiere string manufacturer. Each wound string is precision wrapped with round nickel-plated steel onto a high carbon, hexagon-shaped steel core. The plain strings are made from the same high carbon steel as the hex cores. The high quality steel and computer controlled winding process results in strings that intonate accurately, are better at staying in tune and vibrate evenly for maximum sustain.
The new strings are available in three different sets to cover most guitarists' playing preferences: Super Light (09-42), Regular Light (10-46) and Medium (11-48. The ball ends are color-coded to make it easy to identify each string and every set is packed in a corrosion-inhibiting bag.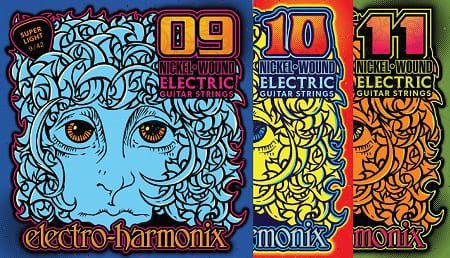 EHX Founder, Mike Matthews, stated: "We used our experience in sonic innovation to create strings that will please the most discerning guitar players. They're long lasting and deliver lightning fast playability with great tone and intonation. Try a set!"
Click here to learn more.