EHX's Performance Series includes the
Wailer Wah,
Cock Fight Plus Wah and Talking Pedal with Fuzz
,
Slammi Plus Polyphonic Pitch Shifter/Harmony Pedal
,
Expression Pedal
,
Dual Expression Pedal
and
Volume Pedal
.
Each features a rugged lightweight design with a traditional rack and pinion style operating mechanism. EHX's Performance Series pedals sound great and deliver outstanding value!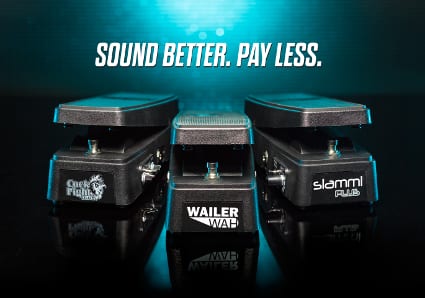 Cock Fight Plus
Epic wah effects, voice-box style talking vowel sounds and a fully featured fuzz that can be added before or after the filter section… the Cock Fight Plus is like getting three very potent pedals in one!
Slammi Plus
This polyphonic powerhouse flawlessly transposes your pitch in three different directions over a +/- 3 octave range: go up, down or both simultaneously! Staggering whammy effects and dive bombs, bends, harmonies, cross-fades between dry and transposed sounds, cocked pitch shifting… it's your ultimate pitch shifter/harmony pedal.
Wailer Wah
The sound of the award-winning Crying Tone Wah in a rugged, polymer package with traditional rack and pinion operation. The super-affordable Wailer Wah delivers expressive wah and cocked wah sounds and, at about 1.5 pounds, a substantial weight savings over most popular wah wah pedals.
Expression Pedal
Affordable and versatile enough to control just about any device with an EXP input. Fine tune your sweep with the Range knob. Flip the sweep direction with the Reverse button. Includes a built-in TRS polarity switch for maximum compatibility. 6 foot TRS cable included.
Dual Expression Pedal
Dual-output design gives hands-free control of two devices from a single source. Each expression output has independent range and reverse controls plus a polarity switch for maximum compatibility with a wide range of gear. Two 6 foot TRS cables included. More control, less space, silky smooth!
Volume Pedal
Rugged and road-worthy while featuring a new lightweight design, this pedal provides smooth, comfortable action for precise control of your dynamics in any setting. Two impedance options (25K or 250K) in one ultra-responsive pedal for added versatility.