MSNBC called it the "Battle for the Soul of Rock." The New York Times titled it "From Russia with Dread." Whatever you call it, we said we would fight. We said we would win. And, damn straight, win we did!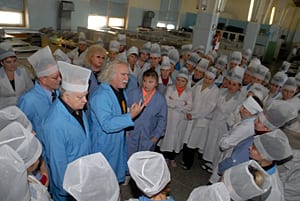 Mike Matthews Addresses Factory
At stake was the very future of vacuum tubes, revered by musicians and audiophiles for the radiant warmth of their sound. The Electro-Harmonix factory in Saratov, Russia, responsible for the majority of the global supply of vacuum tubes, was under mortal attack. The villain: a gang of thugs and the corrupt corporate conglomerate they serve. Standing up to them: a scrappy band of music freaks and geeks from New York City along with the nearly nine hundred employess of our Saratov factory, who work damn hard to produce the world's best vacuum tubes.
Check out this 2006 MSNBC video report (below) produced when the fate of vacuum tubes was looking very grim:
Above, MSNBC interviews Electro-Harmonix founder Mike Matthews, including clips of Jimi Hendrix, Santana, Led Zeppelin, the Red Hot Chili Peppers, Sheryl Crow, and supporting interviews with guitar great Peter Stroud and top Russian band Aria.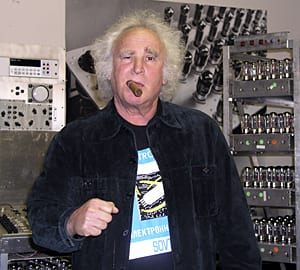 Mike with Hand-made Tube Finishing Equipment
You might know that Electro-Harmonix tubes are widely regarded as setting the standard for top-notch quality. But you may not know that many of the world's most respected audio equipment manufacturers build their gear with our tubes, including big names like Ampeg, Ashdown, Bogner, Divided by 13, Epiphone, Fender, Hiwatt, Manley Labs, Marshall, Matchless, McIntosh, Mesa Boogie, Peavey, PreSonus, Telefunken, Tube-Tech, Vox, 65Amps, as well as a literal A to Z of beloved boutique makers, including ADK, Aesthetix, Aguilar, Aiken, Air Tight, Alden, Allen, Astin Trew, ASV, Audio Research, Avalon Design, AXL, Ayon, Bacino, Bad Cat, Blockhead, Brave, Bruno, Budda, Bulldog, Burriss, Canor, Carr, Carvin, Clark, Conrad-Johnson, Cornford, Demeter, Diamond, DR. Z, Edward, Egnater, ESH, Fargen, Fryette, GDS, George Dennis, Gerhart, Ginelle, Gomez, Goodsell, Greer, Guytronix, Hartke, Hoffmann, Hornfabrik, Ibanez, Icon Audio, Industrial, InnerTube, Jadis, Kendrick, Kingsley, Koch, Komet, Krank, Kustom Amps, Laboga, Mactone, Mad Professor, Mako, Matamp, Maurice Dupont, Mega, Mojave, Naylor, Opera, Palette, Paul Reed Smith, Pendulum, Peters, Reeves, Revolt, Rivera, Robin, Roccaforte, Rode, Rogue, Savage, SIS, Smarvo, Soldano, Spark, SPL, Splawn, Stephenson, Suhr, Swart, THD, TL Audio, Tone King, Top Hat, Traynor, Two-Rock, Unison Research, Universal Audio, ValveTrain, Vermona, Victoria, Vintage 47, Viva, VTL, Wizard, Zinky and hundreds more.
Our adversary, Samara Business World (SBW), wanted to use the Russian court to force us to hand over the property upon which our tube factory stands. During the trial, SBW even presented a forged letter from US Ambassador William Burns (to see the forged letter, scroll down this page, and for the US Embassy response, see here) which characterized Electro-Harmonix' Mike Matthews as a US spy engaged in "subversive activities." Ok, granted, we enjoy some "subversive activities" from time to time, but certainly not of the spy-vs-spy variety. In court, the forgery proved to be an obvious fake because it was dated after Ambassador Burns had been assigned to a new post! We promptly won. But SBW just filed more lawsuits.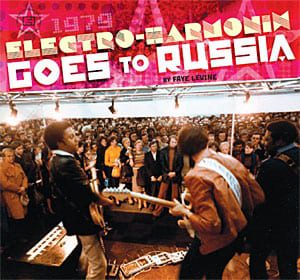 Electro-Harmonix Goes to Russia, 1979
Back in 1979, Electro-Harmonix was one of the few Western businesses invited to attend the very first commercial trade show in the still-Communist USSR (we blogged about that here). So we've seen quite a lot of, um, "red" tape over the years. We know that the old culture of corruption dies hard, and we weren't entirely optimistic.
But a new round of favorable rulings from bold judges has effectively rejected SBW's claims. So, if you're a fan of the warm sound of tubes, today you can breath a sigh of relief!