1977. Apple introduces the Apple II computer. The King passes away in Graceland. The NY Yankees win the World Series (again). Hits like "Hotel California" and "Bohemian Rhapsody" rock the airwaves and 8-track tape players.
In New York City, Electro-Harmonix introduces the Zipper Envelope Follower: "When it comes to synthesizer effects for guitar, the Zipper has it all…"  We found this old ad in the archives and wanted to share it with you.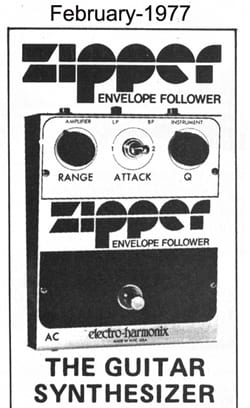 Previous Flashback posts:
Stay tuned, more EHX Flashback posts coming soon!