The year is 1977
The New York Yankees win the World Series (again).
In popular music, Queen's anthem, "Bohemian Rhapsody," is all over the airwaves, while the Eagles are living it up at "Hotel California" and Jimmy Buffet is searching for his lost shaker of salt (in "Margaritaville").
Orlando Bloom, Shakira, Sarah Michelle Gellar, Liv Tyler, and Ludacris all come into the world.
Meanwhile, in downtown Manhattan, Mike Matthews and the EHX team are busy creating pedals like this Echoflanger, which was touted in the company's advertising.
Click here to view the large ad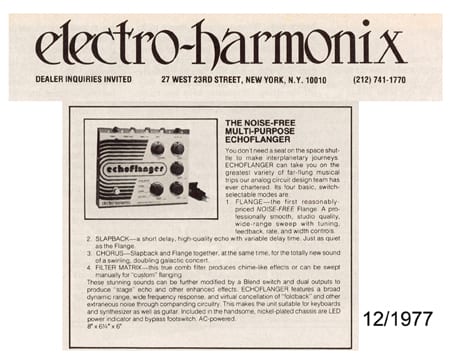 Previous Flashback posts:
Stay tuned, more EHX Flashback posts coming soon!