AVAILABLE NOW!
THE OCEANS 12 IS SHIPPING TO AUTHORIZED EHX DEALERS
Find your local Electro-Harmonix dealer » www.ehx.com/dealers
The EHX Oceans 12 features two simultaneous, independent, stereo reverb engines, series and parallel control for the dual reverbs, 24 presets and advanced I/O allowing for stereo in/out, splitting reverbs to left and right channels, or mono send/return with pre and post reverb options. The pedal also includes a new Tide Control for stereo image alteration, a Lo-fi Control, an infinite attenuation control and an input jack for external expression and footswitch control.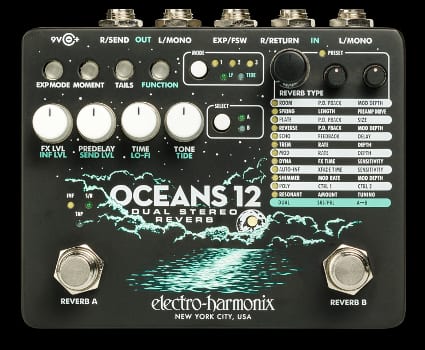 The Oceans 12 comes equipped with a standard EHX 9.6DC200mA power supply.
US retail price is $237.60 at authorized Electro-Harmonix dealers.