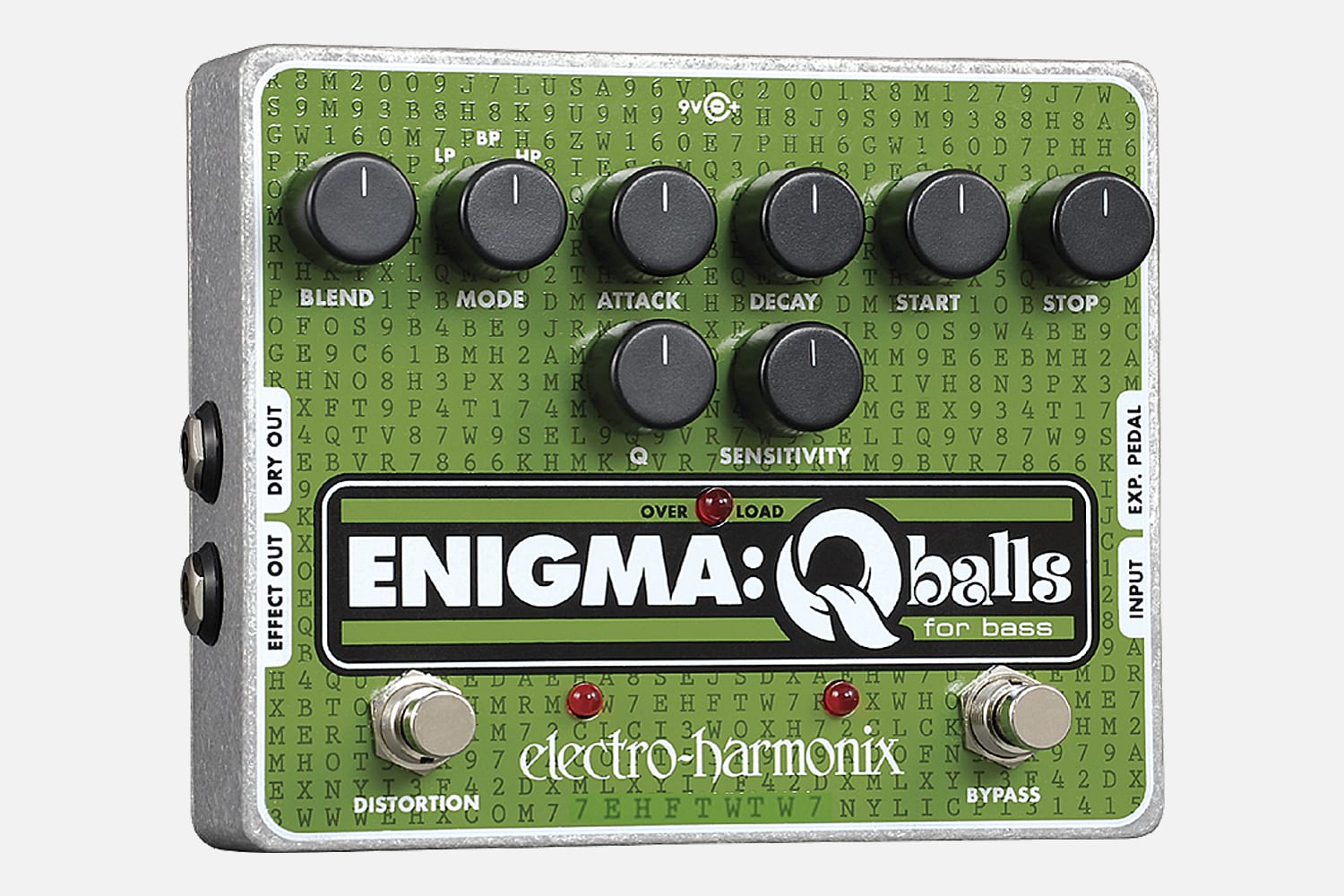 Enigma
DISCONTINUED 2022 | Envelope Filter for Bass
Funk bass envelope filter with old school Q-Tron DNA plus more!
DISCONTINUED 2022
The Electro-Harmonix Enigma is a powerful and precise envelope filter fine-tuned for bass frequency response. Sculpt your envelope to reveal a truly expressive tone, with a defined and unique signature. Enigma will deliver tight and smooth control over the complete 40 Hz to 3 kHz range, with a consistent and even sweetness.
Need some edge? Engage Enigma's analog distortion and dial in anything from subtle bite to dominating crush. You can even plug in an optional expression pedal to control the filter sweep with your foot. With the ability to adjust Q, sweep range, and filter type, you'll also wind up with of the most versatile wahs available.
Enigma: a mysteriously musical envelope filter for bass guitar.
40 Hz to 3 kHz frequency response tailored for bass
Optional expression pedal control
Fully-analog circuit
Switch selectable analog distortion designed for bass
Start and Stop sweep control
Low Pass, Band Pass, High Pass filter select
Start and Stop for filter sweep and Q control
Separate Dry and Effect outputs
Power adapter included
BLEND
Controls the output mix of the dry and effected signal.
MODE
Select between LP (low pass), BP (band pass), and HP (high pass) filter modes to emphasize a different frequency band.
ATTACK
Controls how quickly the filter will sweep from the frequency set by the START knob to the frequency set by the STOP knob.
DECAY
Controls how sensitive the reset circuit is when falling back from the STOP setting to the START setting.
START
This knob sets the frequency that the sweep starts at.
STOP
This knob sets the frequency that the filter sweeps to.
Q
This knob controls the resonance of the Q.
SENSITIVITY
Controls the input sensitivity of the envelope filter circuit.
DISTORTION FOOTSWITCH / STATUS LED
Engages the analog distortion circuitry. When distortion is engaged, the LED will turn on.
BYPASS FOOTSWITCH / STATUS LED
Engages/disengages the effect. If the effect is engaged, the LED will light up.
INPUT JACK
Connect your instrument's output to this 1/4" mono jack.
EXPRESSION PEDAL INPUT
An optional expression pedal can be used for manual control of the filter.
EFFECT OUT JACK
Connect this mono jack to your amplifier's input.
DRY OUT JACK
This is a direct out signal from the input.
"Electro Harmonix has delivered an "out-of-box" experience that is truly cool. If you have an excuse to put one of these in your rig and be able to utilize it you ought to check it out. The groove will be thick and you will be one with da'funk."
–Premier Guitar