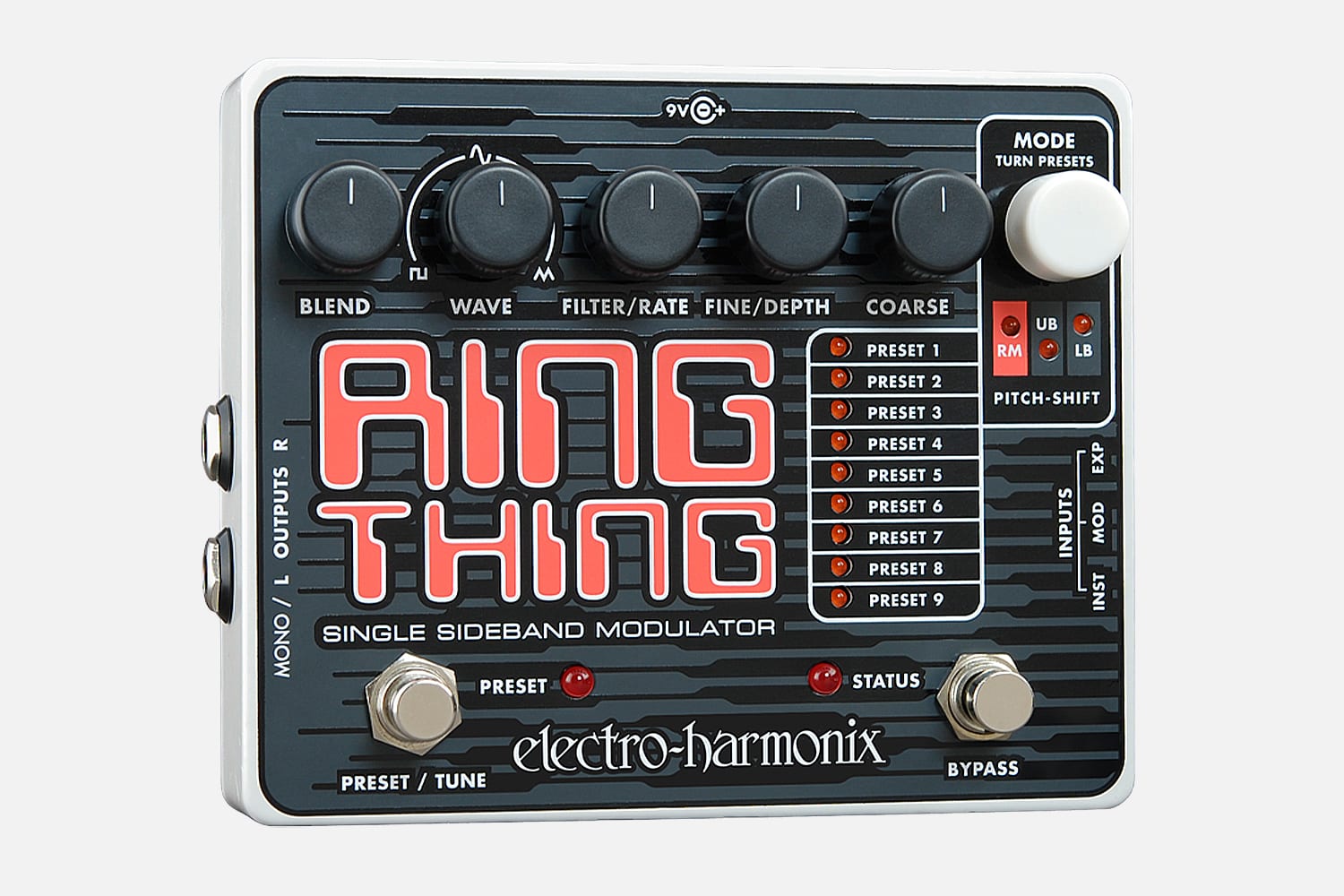 Ring Thing
Single Sideband Modulator
From metallic sweeps to subtle color changes to unique and limitless modulations, it will become your sonic dream machine!
$271.20
Sound Clips
Baritone Guitar, Polyphonic Pitch Shifting
Dive Bombs with Expression Pedal
The EHX Ring Thing ring modulator presents state of the art modulation control allowing the user to explore a new sonic world that is both familiar and inventive. Complex modulations with interactive parameters create any sound your mind can imagine. Articulate pitch shifting, preset tuning, selectable waveforms and external control delivers sound designer mystery, with a Rock and Roll edge.
Multi-wave selection for modulation and Ring Mod
Low pass Filter for Ring Mod and single side band modes
Fine and depth control for frequency select and amount
Tune switch to adjust frequency to your pitch
Upper and lower sideband isolation
High quality whammy style effects with expression pedal
Pitch shifting with pitch modulation and vibrato
Fully programmable
Power adapter included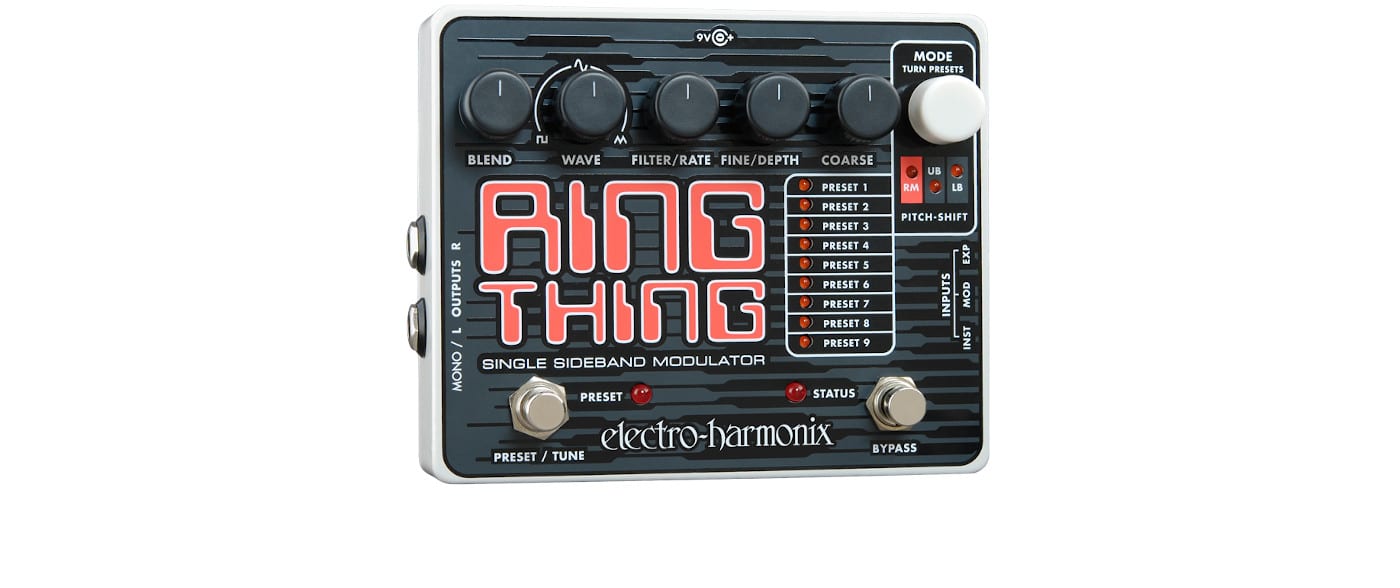 BLEND KNOB
A wet/dry control for the effect outputs.
WAVE KNOB
Changes the waveshape of the modulation signal working in two different ways depending on the selected mode.
FILTER/RATE KNOB
Acts as a low pass filter in all three ring modulator modes and as a modulation RATE control in Pitch Shift mode.
FINE/DEPTH KNOB
Controls the Ring Modulator frequency and Pitch Shift amount, but with a more limited range than the COARSE knob.
COARSE KNOB
Controls the Ring Modulator frequency and the Pitch Shift amount in their respective modes.
MODE KNOB
ChooseS the mode to play through and also scrolls through the nine presets.
PRESET/TUNE FOOTSWITCH
Performs two functions: 1. loading and cycling through presets. 2. tuning the ring modulator to the incoming signal at the INST input jack.
BYPASS FOOTSWITCH / STATUS LED
Toggles the Ring Thing between effect mode and bypass mode.
INST INPUT JACK
The main input jack.
MOD INPUT JACK
Connect a modulation source and set the WAVE knob to full counter-clockwise to enable external modulation.
EXP INPUT JACK
The Ring Thing allows for expression pedal input via the EXP input jack.
MONO/L AND R OUTPUT JACKS
When in a mono output configuration, use the MONO/L output. When using a stereo output configuration, use both the MONO/L and R output jacks.
"Players looking to experiment and broaden their tonal horizons need look no further than this pedal. It's so versatile you can't help but come up with wild new ideas for songs, solos, and more."
–Premier Guitar