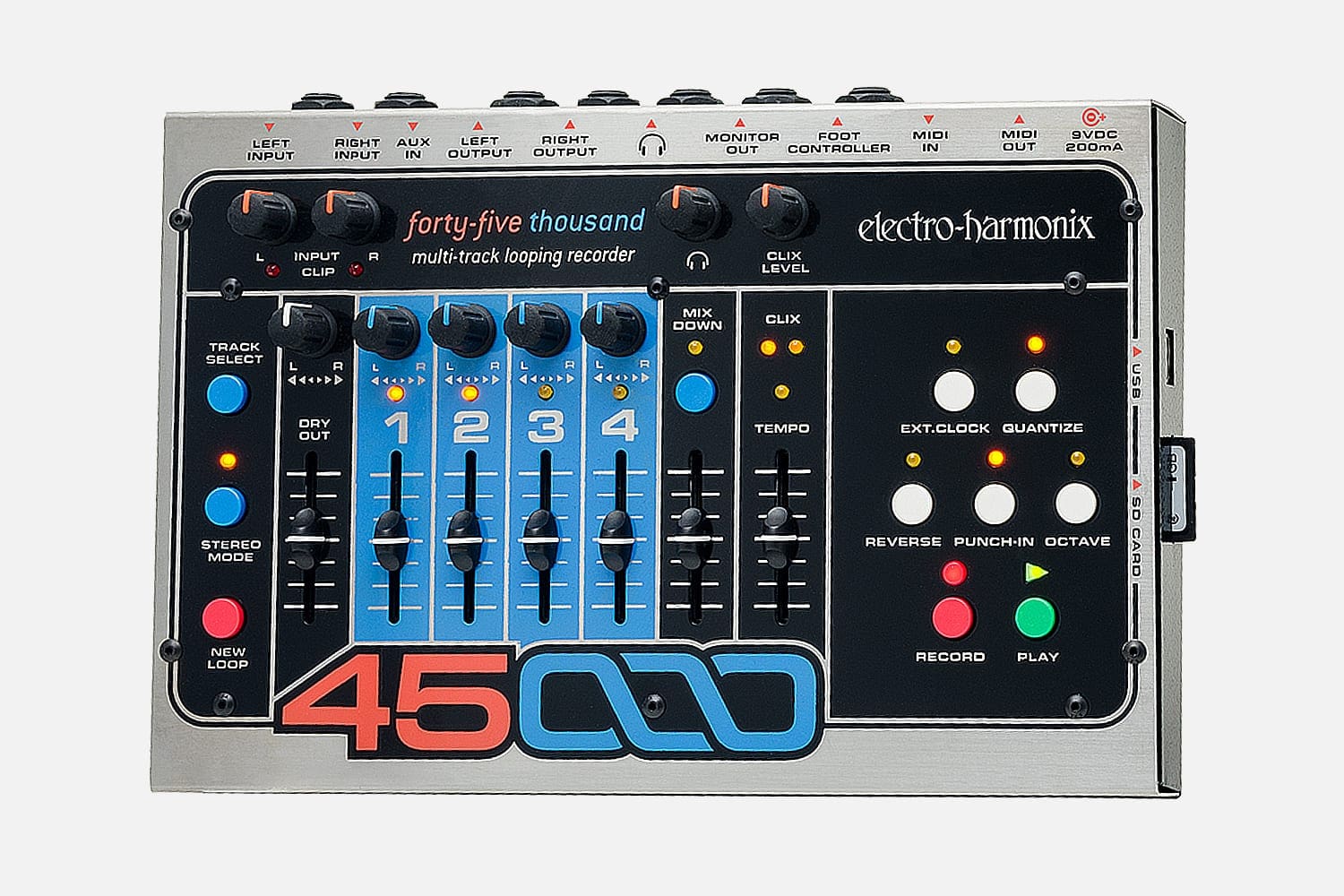 45000
Multi-Track Looping Recorder
Combines the familiar controls of a multi-track digital recorder with state-of-the-art looping features making it possible to create complex multi-track loops quickly and easily!
$547.90
Sound Clips
2 Bar Loop by Jacob Collier
2 Bar Loop by Reggie Watts

Building on Electro-Harmonix's looper legacy, the EHX 45000 Multi-Track Looping Recorder takes the looper platform and adds studio recording elements like multiple tracks, stereo panning, and quantization. Each loop has four mono tracks and one stereo mixdown track for creative live loop manipulation.
The 45000 records CD quality audio direct to a removable SDHC card (4 to 32GB). Each card holds up to 100 individual loops accessed with the optional 45000 Foot Controller (sold separately).
Includes a 4GB card delivering up to 125 minutes of recording time
Non-compressed, 44.1 kHz / 16-bit CD quality audio
Import .wav audio files from PC or Mac
Auxiliary Input mixes MP3 players with the loop output
Stereo mixdown track frees tracks for re-use
Overdub or punch in/out recording
Quantize or non-quantize (free running) modes
MIDI Clock Sync as master or slave
Most user parameters are MIDI controllable
USB port enables backup/restore with PC or MAC
Power adapter included

NEW LOOP BUTTON
The NEW LOOP button will put the 45000 into Record-Ready Mode.
RECORD BUTTON AND LED
The RECORD button will enable the 45000 to enter/exit one of the recording modes: Record, Overdub or Punch-In.
PLAY BUTTON AND LED
The PLAY button is used to toggle Playback mode on/off.
REVERSE BUTTON AND LED
Press the REVERSE button and the loop will reverse its Playback/Record direction.
PUNCH IN BUTTON AND LED
When the PUNCH-IN function is activated, Overdubbing Mode will change into Punch-In Mode. The Punch-In function is useful for fixing bad notes or mistakes.
OCTAVE BUTTON AND LED
The OCTAVE button will lower the speed of the loop by exactly 1/2: the pitch will go down one octave and the tempo will be halved.
QUANTIZE BUTTON AND LED
The QUANTIZE button toggles between Non-Quantize (NQ) and Quantize modes.
EXT. CLOCK BUTTON AND LED
Pressing the EXT. CLOCK button will enable the 45000 to synchronize to external MIDI Clock messages received at its MIDI IN jack.
DRY OUT FADER AND PAN POT
The DRY OUT Fader and pan knob allow you to monitor your instrument when recording or to play along with a loop you have already recorded.
RECORD TRACKS
There are 4 tracks available for you to record your instruments onto.
TRACK FADERS
The 4 track faders serve a dual purpose: during Playback they are the volume control for each track, during Overdubbing they act like a Feedback control as seen on a delay effect.
MIXDOWN TRACK
The Mixdown Track is a stereo track that records the audio from the 4 Recording tracks through their pan knobs and faders. There are two different modes of Mixdown: Normal Mixdown and Constant Tempo Mixdown.
TEMPO SLIDER AND LED
The TEMPO Slider sets the tempo for the 45000 at all times except when the EXT.CLOCK is activated (then the 45000 looks to MIDI IN for its tempo).
CLIX LEVEL KNOB
The CLIX LEVEL knob adjusts the volume of the Clix metronome from 0 to 100%. As you turn the knob clockwise, the metronome beat gets louder. Whether the 45000 is idle, recording, overdubbing or playing a loop, it always outputs the metronome beat at the volume specified by the CLIX LEVEL knob.
LEFT AND RIGHT INPUT JACKS
INPUT L AND R KNOBS
CLIP L AND R LEDs
AUX IN JACK
LEFT AND RIGHT OUTPUT JACKS
HEADPHONES OUTPUT JACK
HEADPHONES VOLUME KNOB
MONITOR OUT JACK
FOOTSWITCH JACK
MIDI IN JACK
MIDI OUT JACK
9VDC/200mA POWER JACK
SDHC MEMORY CARD
The 45000 comes supplied with a 4GB card which allows for a maximum loop recording time of up to 125 minutes. You could record one loop that is 125 minutes or 100 loops, each 1.25 minutes in length.
STEREO MODE BUTTON AND LED
This button toggles the 45000 in/out of Stereo Mode.
TRACK SELECT BUTTON
This button is used to select the active track for recording and overdubbing.
"More than just a looper - it's a very useful machine for practice or composition."
–MusicRadar