Electro-Harmonix has unveiled the Triple Foot Controller, a utility product that gives players remote control over functions in other pedals that have an external foot control jack. Depending on the pedal it's plugged into, the Triple Foot Controller can control tasks such as setting tap temp, toggling through programs, mode selection and more.
The Triple Foot Controller's compact footprint saves space while its cast construction provides durability. The pedal is easy-to-use and works with applicable Electro-Harmonix pedals as well as those made by other makers. It's a great alternative to products like the Digitech® FS3X Foot Switch, Strymon® Multi Switch and the TC Helicon® Switch-3 Foot Pedal.
No power is required and it comes equipped with a TRS (Tip-Ring-Sleeve) cable.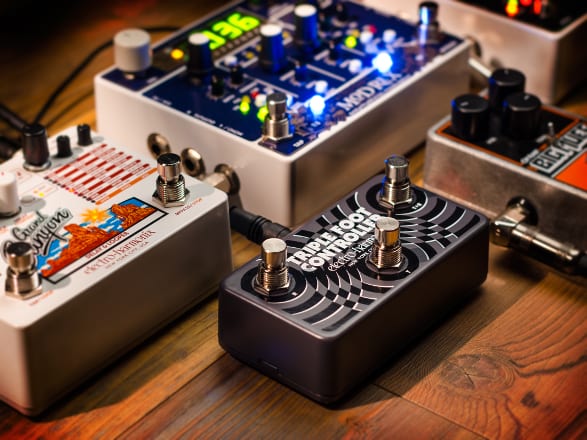 The EHX Triple Foot Controller is available now and features a USA Street Price of $40.80.