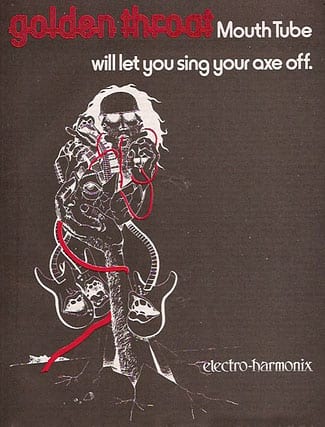 Vintage Golden Throat promotional art.
Back in the mid '70s to early '80s, the Electro-Harmonix family included the Golden Throat talk box (not to be confused with a vococder, such as our new Voice Box). The Golden Throat physically pumped audio (not an electronic signal) up a tube, into the player's mouth, to then be shaped and captured via an external microphone.
One of the great Golden Throat wizards was the late Roger Troutman, first a Parliament/Funkadelic protege, who then went on to form Zapp. "California Love," one of Roger and Zapp's most famous tracks (as it was remade in 1995 by 2Pac and Dr. Dre with Troutman re-recording the vocals) made prominent use of his Golden Throat. You can't miss the tube:
After scouring YouTube, we found some more great clips of the Golden Throat in action. The first video is from John Hurd, an old neighborhood friend of Roger Troutman, singing about Roger, Zapp, and their shared hometown of Hamilton, Ohio. John wrote and recorded this tribute following Roger's murder in 1999, make sure to read along:
Mo' Cheez, a devout talk box fan, writes that the Golden Throat "is the 'Holy Grail' of talkboxers. The most famous talkbox ever. Roger Troutman, the Godfather of talkboxing used it so you get the point. But it's also sought after for its sonic performances and classic design."
That's it for this installment from the EHX Vault — if you're into the sounds of voice synthesis, be sure to check out the Voice Box — it includes a terrific vocoder (which can sound similar to a talk box, without needing the tube) as well as a spectacular multi-voice harmonizer.