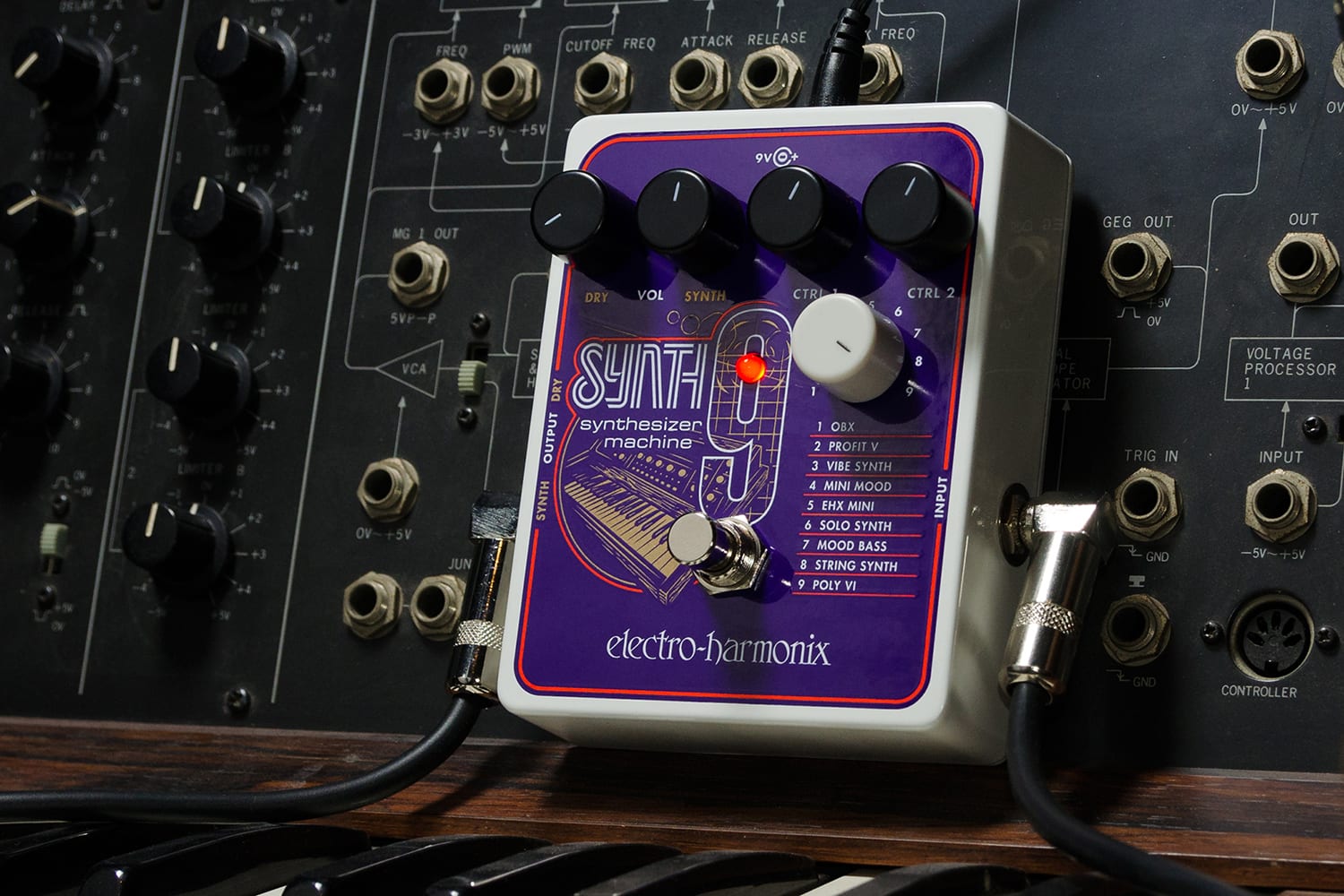 SYNTH9
Synthesizer Machine
Transform your guitar or bass into the most sought after synthesizer sounds!
$259.50
The polyphonic EHX SYNTH9 Synthesizer Machine transforms your guitar or bass with 9 presets that were precisely tuned to emulate the most sought after, vintage synthesizer sounds ever! From searing lead synths to spacey synth pads and deep, funky, synth bass grooves, it's all accessible.
The SYNTH9 is also super easy to use with DRY volume, SYNTH volume, CTRL1 and CTRL2 knobs that provide precise control over each preset's parameters.
If you dig the kind of classic synth sounds made famous on recordings by groups like ELP, EVH, Kraftwerk, Joy Division, P-Funk, Peter Gabriel and more, we think you'll love the SYNTH9.
Transforms the tone of your guitar or bass into that of a vintage synthesizer
9 presets that were created to emulate many of the most popular synthesizer sounds ever
Works on guitar or bass without modifications, special pickups or MIDI implementation
The SYNTH9's usable tracking range extends up to about the 23rd fret on the high-E string of a standard guitar and down to the open A-string on a bass guitar
Use the SYNTH9 with a B9 or C9 Organ Machine as well as the KEY9 Electric Piano Machine and MEL9 Tape Replay Machine to create your own mega-keyboard setup
Power adapter included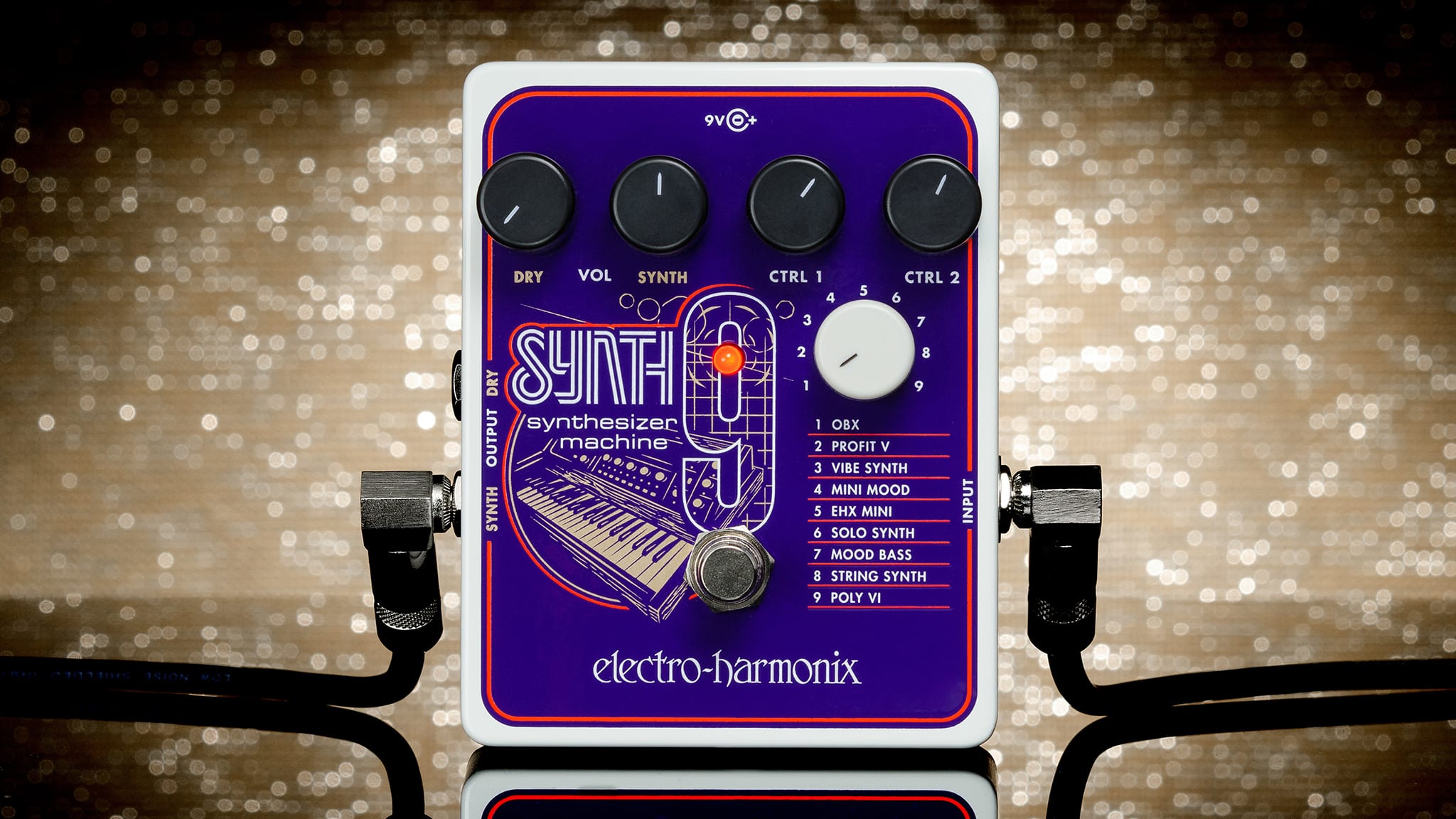 DRY VOL KNOB
Controls the volume of the untreated instrument signal present at the SYNTH OUTPUT jack.
SYNTH VOL KNOB
For all presets except MINI MOOD, the SYNTH VOL knob controls the overall volume of the selected preset at the SYNTH OUTPUT jack. In MINI MOOD, SYNTH VOL controls the volume of the non-portamento synthesizer.
CTRL 1
Make adjustments based on selected preset.
CTRL 2
Make adjustments based on selected preset.
PRESET KNOB
Turn the white numbered knob to select a preset sound.
INPUT JACK
Plug your instrument or the output of another effects pedal into this ¼" jack.
SYNTH OUTPUT JACK
The SYNTH OUTPUT jack outputs the mix set by the DRY and SYNTH volume controls.
DRY OUTPUT JACK
The DRY OUTPUT jack outputs the signal present at the INPUT jack through a buffer circuit.
BYPASS FOOTSWITCH
Press the BYPASS Footswitch to toggle the SYNTH9 between buffered Bypass and Effect mode. The status LED lights when in Effect mode.
"The synth sounds are very convincing, but also they've clearly — and very sensibly — been chosen to feel comfortable to the guitar player."
–Sound on Sound