Introducing the Blurst, a radical modulating filter. It's an effect often used on synthesizers, but we've designed the Blurst especially for guitar players and bassists who want to explore new sonic territory.
It features an analog, low pass filter with adjustable resonance, three modulation waveform shapes, tap tempo with tap divide and EXP control over Range, Rate or Filter. An EHX 9.6DC/200 AC adapter is included.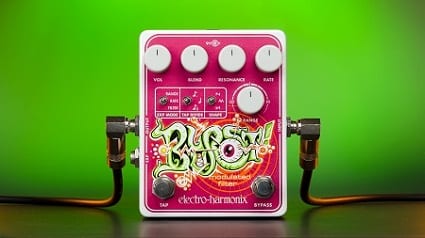 The Blurst is a must have for the experimental musician and works really well with an expression pedal, the EHX 8-Step Program and other control voltage sources. Whether used alone or with other effects, the Blurst's hypnotic effects are spellbinding!